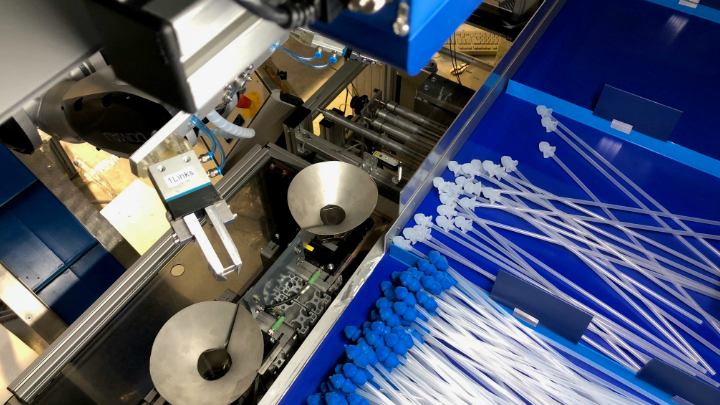 Meeting high quality demands and increasing profitability are two key requirements in today's manufacturing processes. One such example is in medical device manufacturing, where German systems integration company Pose Automation recently developed a vision-guided robotics system for a customer in the veterinary medicine sector.
Catheters used in veterinary medicine are developed at this facility and must be sorted into a packaging machine for shipment. To automate this process, Pose Automation developed a robotic cell, where—following production—randomly-placed catheters are transported on a conveyor belt in large quantities to the gripping area of a robot arm from Comau. Used for identifying the catheters is an Ensenso N35 3D camera from IDS Imaging Development Systems featuring a "FlexView projector," which operates a piezoelectric actuator and doubles the effective resolution of the 3D point cloud, as well as IP65/67 requirements.
FlexView technology, in conjunction with sequence correlation algorithms, enables increased accuracy of camera results. A projector with movable bearings projects a random pattern onto the catheters with different surface texture structures, and the algorithms calculate the 3D object data from up to 16 pairs of images to increase accuracy.  The N35 camera features two 1.3 MPixel monochrome, global shutter CMOS image sensors, blue (465 nm) light projector, GigE interface, and Power over Ethernet. The projected texture stereo vision camera achieves a frame rate of 10 fps in 3D and 30 fps in binning mode. On the software side, Pose Automation used HALCON machine vision software from MVTec.
Pose Automation chose the N35 3D camera because of its ability to capture 3D image data at high speed, enabling the position of the catheters of the conveyor belt and the gripping path of the robot to be determined quickly and precisely. Additionally, through FlexView, the system can detect transparent object parts, explains Sebastian Pose, Managing Director of Pose Automation.
Information captured by the camera is sent to a PC for calculation of position and alignment of the objects to be gripped. The robot grips two pieces per cycle and inserts them individually into format tubes. Both the recognition and gripping of different catheter designs and further assembly steps such as the attachment of hose pieces is also possible, enabling different catheters from different production lines to be packed on the same packaging machine. With the system, it is possible to adapt product delivery to customer needs.
Related stories:
3D machine vision guides robotic system for logistics e-fulfillment
Microsoft announces Azure Kinect vision system
NLiDAR-based vehicle detection and classification system operates in free-flowing traffic
Share your vision-related news by contacting Dennis Scimeca, Associate Editor, Vision Systems Design

To receive news like this in your inbox, click here.