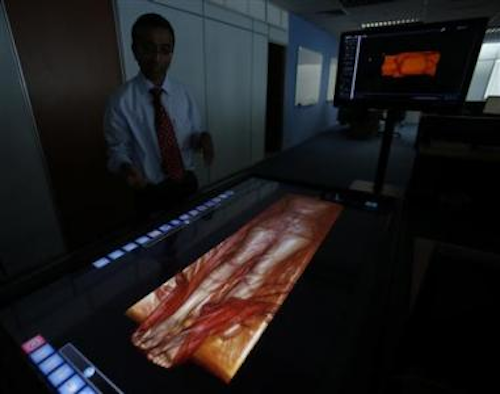 Malaysian entrepreneur Matt Chandran, group chief executive officer at Infovalley has a developed a system that utilizes his company's iGene 3D imaging software and medical scanners to perform digital autopsies.
Digital autopsies would involve the use of a standard CT or MRI scanner from a company like Siemens, General Electric, Toshiba, or Phillips, which would be hooked up to the iGene 3D imaging software, enabling the virtual inspection of a cadaver in 3D. It also enables the removal of layers of clothes, skin, and bone with a click, or by gestures on a tabletop touchscreen. Ideally, digital autopsies would enable experts to more easily spot and identify fractures, breaks, foreign objects, and wounds, which could determine a cause of death quicker, and without the need for physical inspection.
This system is also to archive digital evidence remains, which enables physicians or experts to later review the files, according to Reuters.
While iGene isn't the first to use a scanner in autopsies—radiology has been used on skulls for 30 years, and Israel first introduced the concept of virtual autopsies in 1994—this is the first that packages the process and offers it commercially as a suite of services that stretches from the moment of death to the delivery of a post-mortem report.
The first digital autopsy facility will open in October in the northern English city of Sheffield. When a family member dies, next of kin will be given the option of a traditional autopsy, which is paid for by the state, or a digital autopsy, which will cost about £500 or $780, which would be paid directly to the facility by the family.
Chandran believes the digital autopsy could largely displace the old post-mortem method of autopsies, as well as speed up investigations, which could it turn reduce the stress of family members and placate certain religious beliefs.
View the Reuters article.
Also check out:
(Slideshow) Five interesting applications of imaging software technology
Image processing software identifies animal gender and age from footprint
3D imaging technology could improve colonoscopy procedures
Share your vision-related news by contacting James Carroll, Senior Web Editor, Vision Systems Design
To receive news like this in your inbox, click here.
Join our LinkedIn group | Like us on Facebook | Follow us on Twitter | Check us out on Google +