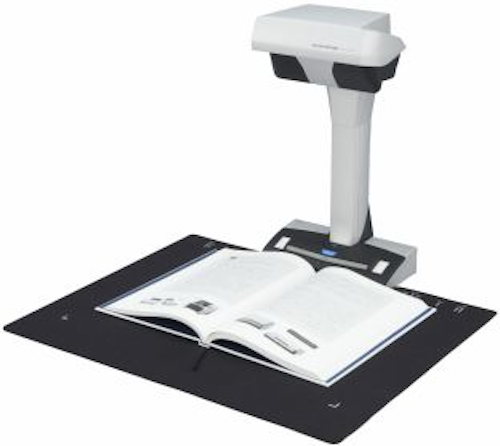 Fujitsu's SV600, the latest member of the company's ScanSnap series, is a document scanner which utilizes "versatile imaging technology," to create high quality scan images of bound books and documents.
The SV600 utilizes a deep depth of field lens, a color CCD image sensor, and white LED and lens illumination. It features color, grayscale, and monochromatic scanner modes, as well as an "automatic" scanner mode, which detects color, grayscale, and monochrome. SV600 has an optical resolution of 285 dpi to 218 dpi for horizontal scanning and 283 dpi to 152 dpi for vertical scanning, as the resolution differs with the angle in which a document is scanned changes.
ABBYY FindReader—software that comes included with the scanner—uses optical character recognition technology to automatically convert scanned documents into Word, Excel, and PowerPoint file formats. ABBYY FineReader recognizes up to 177 languages and is optimized for the ScanSnap scanner.
Also included with the scanner is the Rack2-Filer Smart with Magic Desktop, which is digital bookshelf document filing software. Rack2-Filer features "easy book creation," which automatically sets the size of a display according to the size of a scanned book on the virtual bookshelf and creates thumbnails using the scanned front and spine of the book.
SV600 also has a number of other features that optimize the scanning and archiving process:
Page turning detection, which aids in the scanning of books.
Book image correction, which corrects the distortion caused by the curve of an open book.
Multiple document detection, which enables the scanning and cropping of multiple documents in one scan.
Additional software, including Adobe Acrobat standard, for editing PDF files, and CardMinder, for managing business cards.
Libraries across America have been putting digital copies of old books, papers, photos, and records online in an effort to preserve the country's history. A scanner specifically designed for digitizing books and documents could go a long way in aiding such efforts.
View more information on the ScanSnap SV600.
View technical details on the ScanSnap SV600.
Also check out:
(Slideshow) Vision Systems Design 200th issue anniversary: Spanning the spectrum
(Slideshow) Vision Systems Design 200th issue anniversary: A retrospective of past coverage
3D scanners used to create zombies in World War Z
Share your vision-related news by contacting James Carroll, Senior Web Editor, Vision Systems Design
To receive news like this in your inbox, click here.
Join our LinkedIn group | Like us on Facebook | Follow us on Twitter