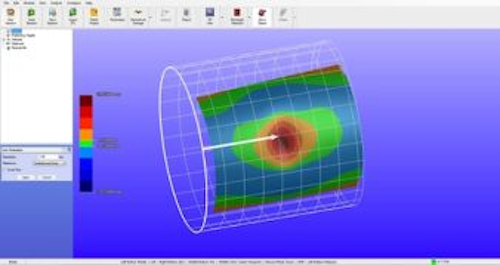 More than 25% of leak incidents in oil and gas pipelines are attributable to corrosion. Oil and gas operators use in-line inspection (ILI) tools such as magnetic-flux leakage technology to assess the conditions of the pipeline walls, but these tools can still lead to errors.
As a result, Quebec-based Creaform has developed a portable 3D measurement and assessment software system that performs in-line inspection correlation with corrosion and dent feature data acquired by a 3D scanner with the ones identified by the traditional ILI tool, according to Spar Point Group.
Creaform's Handyscan 3D scanner performs a scan of the pipeline surface and records profile data. Handyscan can also detect changes in thickness of a material's viscosity, which is a red flag for corrosion. From there, Creaform's Pipecheck software rebuilds a 3D model of the original pipeline surface, independent of any distortion such as bends or ovals.
Operators are then able to compare the rebuilt pipe surface with the corroded surface to calculate corrosion pit depth and remaining pipe wall thickness. The correlation between the ILI data and the 3D scan data are generated with the features overlap in the model. Data are output in a complete Excel report and automatically extract selected corrosion areas for strength analysis from clearly unmatched features.

Pipecheck software is also able to generate worst-case profiles for all corrosion features, estimate burst pressure calculations, offer "depth on the fly" capabilities – which enable an operator to drag a mouse over a point to obtain local corrosion depth measurements, as well as offer internal and external assessment.

View the Spar Point Group article.
View more information on Creaform.
Also check out:
Robot snakes inspect nuclear power plantHow 3D visualization software could be used to help treat injured soldiers
Five interesting applications of 3D scanning
Share your vision-related news by contacting James Carroll, Senior Web Editor, Vision Systems Design
To receive news like this in your inbox, click here.
Join our LinkedIn group | Like us on Facebook | Follow us on Twitter