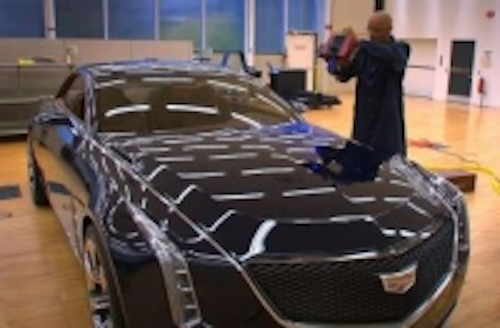 Developers of the Cadillac Elmiraj, a modernized concept car update of a classic two-door grand coupe, used 3D scanning technology to bridge the design process between traditional hand-sculpting teams and digital modeling design teams.
The creation of the Elmiraj, which was showcased at the Los Angeles International Auto Show from November 22 through December 1, was heavily influenced by the use of 3D scanning. A video from Cadillac shows Mike Nolan of GM Design Fabrications Operations using a blue light scanner to capture a 3D image of the car. Though the make or model of the scanner is not specifically mentioned in the GM press release, a screen capture will show that the scanner used was almost certainly an ATOS Compact Scan 5M from GOM.
ATOS Compact Scan 5M scanners feature a 40 x 30 – 1,200 x 900 mm2 measuring area, point spacing of 0.017 – 0.481 mm, and a working distance of 450-1200 mm. It's sensor dimensions are 340 mm x 130 mm x 230 mm, and it cable length of 30M and an operating temperature range of 41°F – 104°F (5°C – 40°C). In addition, the scanner runs on Windows 7 and features accompanying imaging software which enables data capture, processing, and inspection tasks.
The scanner uses projected light patterns and an industrial camera to capture 3D shapes and translates them into data that can be manipulated into digital modeling programs for the car's developers to utilize. GM has used 3D scanning since 2001, but more on clay interior and exterior properties than drivable concept cars. With the Elmiraj, GM designers used 3D scanners to validate nearly every pattern, mold, and part during the development of the vehicle.
"It [3D scanning] provides a means of recording every design change with the utmost accuracy," said David Bolognino, director of GM Design Fabrication Operations in the press release. "A scan can even reveal the need to take a step back to a previous iteration, and 3D scanning makes it relatively easy to do."
The scanners were also used to look for distortions that represent curves or contours, and record where the object is in its orientation. Each scan is then digitally stitched together until the vehicle is completed. This data can be used to create a full scale model, and portions of the vehicle can be transferred to a 3D fabricator for a rapid prototype part, according to GM.
With the use of 3D scanners, GM is able to translate the surface from a scale model into a full-size model in less than a week.
View the GM press release.
View more information on the ATOS Compact Scan 5M.
Also check out:
(Slideshow) 10 different ways 3D imaging techniques are being used
Image processing system inspects commercial vehicle brake system
Automated vision system creates 3D model of Ford cars to detect dirt in paint jobs
Share your vision-related news by contacting James Carroll, Senior Web Editor, Vision Systems Design
To receive news like this in your inbox, click here.
Join our LinkedIn group | Like us on Facebook | Follow us on Twitter | Check us out on Google +