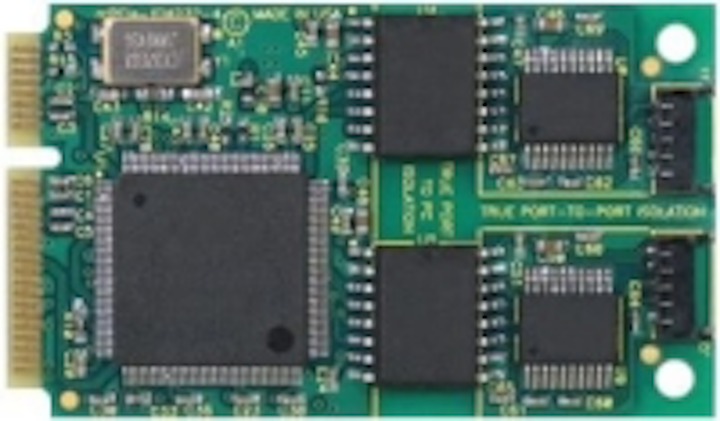 Available in a selection of two or four ports of isolated RS232 serial communications, the new mPCIe-ICM series of PCI Express mini cards have been designed for use in harsh environments such as military and defense, industrial automation, health and medical, embedded systems, security systems, and kiosks. The cards supports data communication speeds up to 1 Mbps simultaneously and featuresTru-Iso 1500V isolation port-to-computer and 500V isolation port-to-port on ALL signals. In addition, the mPCIe-ICM cards were designed using type 16C950 UARTS and use 128-byte transmit/receive FIFO buffers to decrease CPU loading and protect against lost data in multitasking systems.
To Learn More:
Contact:ACCES I/O
Headquarters: San Diego, CA, USA
Product: mPCIe-ICM PCI Express mini cards
Key features: PCI Express Mini Card (mPCIe) type F1, with latching I/O connectors, 2 or 4-port mPCIe RS232 serial cards with optional DB9M connectivity, data communication speeds up to 1 Mbps.
What ACCES I/O says:
View more information on the mPCIe-ICM cards.

View More Products| Locate a vendor or system integrator | Receive e-mail updates
Share new products that you think are particularly interesting or helpful by contacting James Carroll, Senior Web Editor, Vision Systems Design.
Join our LinkedIn group | Like us on Facebook | Follow us on Twitter | Connect on Google +