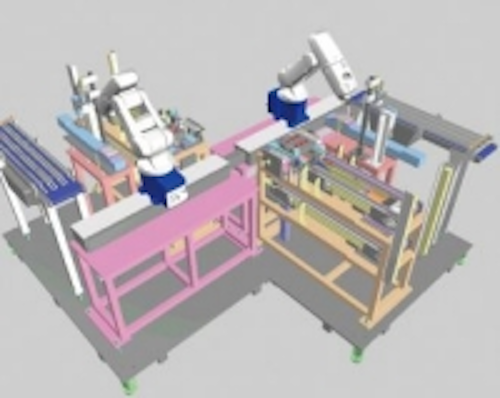 DENSO Robotics has announced the releases of its new enhanced multi-robot simulation and offline programming software (EMU), which serves as a master controller for robot project files imported from the company's WINCAPS III applications. EMI enables a user to simulate and program up to 16 DENSO robots in a single automation workcell and allows a robot to be programmed on an offline computer. EMU's 3D simulation feature enables the layout of an entire automation workcell in a virtual environment. In addition, the software lets users verify reach, determined obstacle clearances, detect collisions, troubleshoot and debug programs, and determine cycle time. An easy teach feature also allows users to move the robot to a particular point by clicking on the surface of the virtual model.
To Learn More:
Contact:DENSO Robotics
Headquarters: Long Beach, CA, USA
Product: EMU multi-robot offline software
Key Features: Master controller for WINCAPS III simulation and offline programming software, imports WINCAPS III robot project files, 3D simulation and offline programming of up to 16 robots.

What DENSO Robotics says:
View more information on EMU software.

View More Products| Locate a vendor or system integrator | Receive e-mail updates
Share new products that you think are particularly interesting or helpful by contacting James Carroll, Senior Web Editor, Vision Systems Design.
Join our LinkedIn group | Like us on Facebook | Follow us on Twitter | Connect on Google +