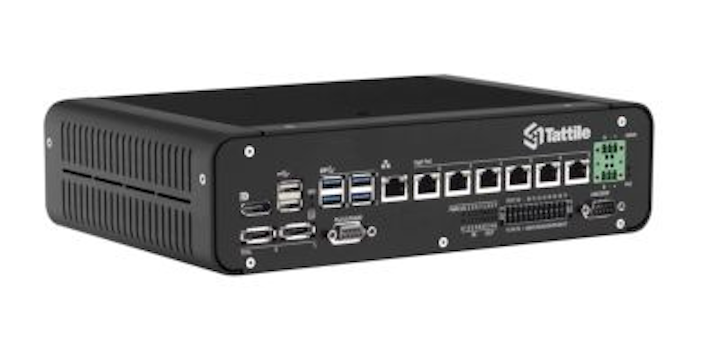 Tattileand NorPixhave announced a technical partnership in which the M100 vision controller from Tattile is now compatible with StreamPix high-speed recording softwarefrom NorPix.
NorPix has integrated the software development kit of the M100 vision controller (pictured) in the new release of their multiple camera digital video recording software, StreamPix 7, in order to enable direct management of the M100 I/O from StreamPix.
"Through this the NorPix software StreamPix 7 is now one hundred percent compatible with the Tattile M100 and our Vision Controller is ready to use for high-speed recording systems in combination with StreamPix. Customers can now manage all standard and specific functions of the Tattile M100 directly through the StreamPix software from NorPix," said Fulvio Pozzalini, Technical Product Manager with Tattile.
The Tattile M100 is an industrial PC specifically designed for vision systems. Compared to classic industrial PCs, the M100 Vision Controller combines a number of advantages for ease of installation, according to the company. This includes the fact that it is fanless with a compact and rugged construction, and comes out of the box ready-to-use requiring no loading of any OS software or drivers or any additional components such as a frame grabber or switch, and it contains an FPGA-enabled real time I/O allowing for extremely low-latency synchronization between vision system, cameras and machine automation.
View more information on StreamPix.
View more information on the M100.
Share your vision-related news by contacting James Carroll, Senior Web Editor, Vision Systems Design

To receive news like this in your inbox, click here.
Join our LinkedIn group | Like us on Facebook | Follow us on Twitter