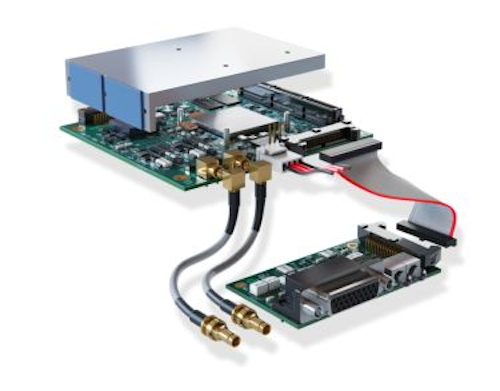 At VISION 2016 in Stuttgart, Germany, Marc Damhaut, CEO, Euresys and I talked about a number of vision topics, including the proliferation of CoaXPress technology, new markets such as unmanned aerial systems(UAS), the state of business, and more.
First, we talked about the CoaXPress standard. At the show, Euresys was showcasing a CoaXPress four channel CoaXPress Quad CXP-6 frame grabber running at 6.125 Gbps per channel. The company is also prototyping a four channel board with transceivers from Microchip running at 10Gbps, which was demonstrated with an industrial camera at the Adimec booth. One product that was on display though, was the Coaxlink Duo PCIe/104-MIL, a two-connection military grade CoaXPress frame grabber.
This frame grabber is a ruggedized board designed for military applications that features an extended temperature range of -40°F to 185°F and features two CXP-6 connections for 1,250 MB/s camera bandwidth It also features PCIe 2.0 (Gen 2) x4 bus for 1,700 MB/s delivery bandwidth.
"We want to explore different markets with the CoaXPress standard," said Damhaut.
One such application, noted Damhaut, is in the UAS market. Euresys even had a vision-guided drone on display in their booth, as they've recently partnered with a company on drone deployment.
"Customers are looking for zero-latency interface between PC and camera," he said. "A computer is flying the drone and analyzing the images, so the image needs to be obtained as quickly as possible. We came in contact with this company locally and we told them we could suit their needs, with no delay for integration."
The drone application Damhaut described was UAS swarming in a military application. In the deployment, the Coaxlink Duo PCIe/104-MIL was used. The application included drones being operated in autopilot through a combination of GPS, vision, and image processing.
As for other markets where CoaXPress is seeing a lot of action, Damhaut noted that transportation, among others, has been big for them.
"Two years ago, it may have been all electronics and semiconductor inspection," he said. "Now in Asia, the US—they are all using our cards for all sorts of different applications. One such application being for transportation, and CoaXPress performs in a way that USB or GigE cannot, since transmission for these is packetized."
"CoaXPress," he added, "is designed for real-time."
When we switched gears to the state of business for Euresys, Damhaut said that while 2015 was flat, 2016 ultimately ended very well, with growth of 20%. This, he said, was because sales in CoaXPress grew from about 3% of sales to about 11%.
"We are pushing this standard. CoaXPress fits a certain need that other interfaces cannot address," he said.
Additionally, the company has a number of new products on the horizon, including a frame grabber for 3D profiling, a new OCR library, and of course, new CoaXPress frame grabbers that are designed to meet the ever growing and changing needs for customers in the vision industry.
View more information on Euresys.
Share your vision-related news by contacting James Carroll, Senior Web Editor, Vision Systems Design

To receive news like this in your inbox, click here.
Join our LinkedIn group | Like us on Facebook | Follow us on Twitter
Learn more: search the Vision Systems Design Buyer's Guide for companies, new products, press releases, and videos