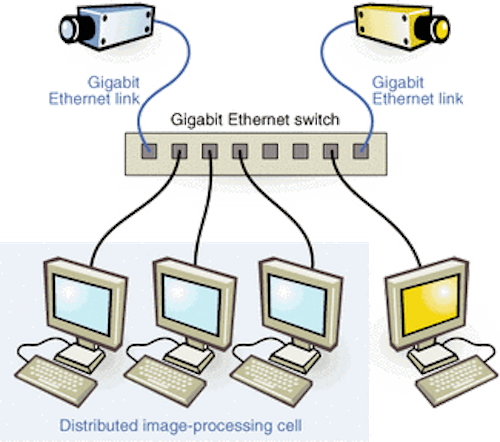 Andrew Wilson, Editor, andyw@pennwell.com
A few years ago, the launch of the Camera Link interface helped mitigate multivendor integration issues by standardizing formats for data rates, cabling, and control signaling between cameras and frame grabbers (see Vision Systems Design, "Camera Link Special Report II," January 2003). Camera Link supports data rates to 2.38 Gbits/s over one cable and 5.44 Gbits/s over two cables using low-latency point-to-point, serial, low-voltage differential signal links. These links extend to 10 meters over a twin axial shielded cable with MDR-26 pin connectors and farther with optical extensions (see Vision Systems Design, November 2002, p. 7)
null
"Although Camera Link delivers the throughput needed for high-end vision applications, it still fails to address growing customer demand for cost-effective, longer-reach, more-flexible camera-to-PC connections," says George Chamberlain, president of Pleora Technologies (Kanata, Ontario, Canada; www.pleora.com). "Systems based on Camera Link have three main shortcomings," he says. "Their connections are point-to-point with almost no networking or processing flexibility, their 10-meter reach is too short for PCs to migrate out of main operations areas, and they still require expensive specialized equipment that must be integrated, maintained, and upgraded by vision-system experts."
Against this technology backdrop, several companies are now considering camera-to-PC communications links based on standard, low-cost, easy-to-use Ethernet equipment. Already, Cognex Corp. (Natick, MA; www.cognex.com) and DVT Corp. (Norcross, GA; www.dvtsensors.com) offer cameras with 100-Mbit/s Ethernet connectivity.
However, many industrial vision applications require data rates greater than 100 Mbits/s. To address these markets, it is likely that future cameras will offer Gigabit Ethernet interfaces. Some PC vendors, including Dell Computer (Round Rock, TX; www.dell.com), are already shipping systems with Gigabit Ethernet interfaces on the motherboard. Gigabit Ethernet supports point-to-point connections to 100 meters over economical category-5 copper cable; this approach allows PCs that process images to be replaced by centralized servers.
In such a scenario, multiple cameras can be connected through a Gigabit Ethernet local-area-network switch to multiple PCs. A single PC can process data from more than one camera, or data from a single camera can be processed by multiple PCs. The new 64-bit/66-MHz PCI bus helps support these configurations by delivering I/O bandwidths to 4.2 Gbits/s.
For transfer across Ethernet networks, data must be first formatted into IP packets. In the past year, hardwired packet processors have emerged that address these shortcomings. Known as TCP/IP offload engines (TOEs), these processors convert data into IP packets at high speeds and with low, consistent latencies. Pleora has developed a data-conversion module based on TOE processing technology that connects Camera Link and other standards-based cameras to Gigabit Ethernet networks.
Pleora's iPORT protocol engine for cameras converts video data into IP packets for Ethernet transport and processes the data at rates to 1 Gbit/s with microseconds of latency. The iPORT IP device driver resides in a standard PC and gives incoming IP/Ethernet video packets direct access to memory, bypassing the Windows software stack. This approach allows the PCI bus to route video data to memory. "End-to-end, camera-to-memory data transfers use less than 1% of the capacity in the PC's CPU, leaving processing power free for vision applications," says Chamberlain.