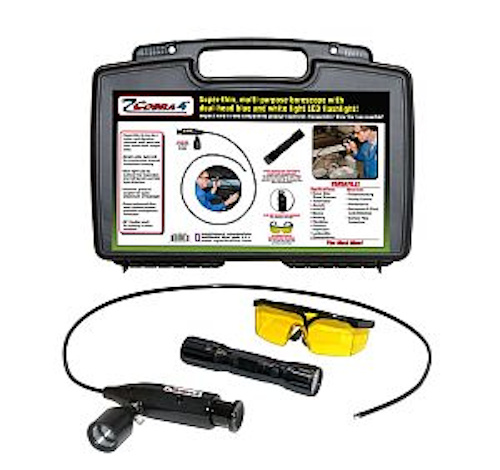 NEW PRODUCT PRESS RELEASE
Spectronics Corp. (Westbury, NY) has introduced the CB-400 COBRA-4, part of the COBRA series of multipurpose borescopes. The scope features a dual-head blue-and-white-light LED flashlight, which enables industrial technicians to both leak check and perform internal component inspection into hard-to-reach areas.
The blue-light LED (light-emitting diode) is suitable for fluorescent leak detection, while the white-light LED tacklescomponent inspection. A press-fit coupler allows quick and easy attachment of the flashlight to the borescope. The COBRA-4 has a 4-mm, 36-in. shaft to get into space-constrained areas.
Included with the scope is a clip-on, angled inspection mirror, which enables the user to detect flaws normally hidden from view. Three AAA alkaline batteries (included) power the flashlight. Fluorescence-enhancing glasses, for use with the blue light flashlight and fluorescent leak detection dyes, are also included. Dyes are sold separately. All components are packed in a sturdy plastic carrying case with a foam insert.
SOURCE: Spectronics Corp.

-- Posted by Vision Systems Design