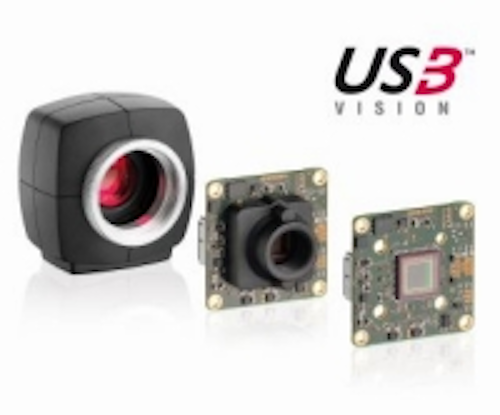 IDS Imaging Development Systems—which is one of only ten companies that have USB3 Vision and AIA certified cameras—has unveiled its first line of USB3 Vision cameras.
The USB3 Vision camera range will consist of both board level and housed models with the latest generation of CMOS image sensors. These camera families include the USB 3 uEye LE, USB uEye LE board level camera, and the USB 3 uEye ML. The USB 3 uEye LE is a 47 x 46 x 26.3 mm camera with a C/CS-Mount lens mount and is suitable for use in embedded systems, apparatus engineering, and packaging applications, while the USB 3 uEye LE board level camera is a 36 x 36 mm single-board USB 3.0 camera with an 8-pin connector, 5 V power supply, and S-Mount lens mount that is also suitable for use in apparatus engineering and embedded systems.
In addition, the USB 3 uEye ML is a 47 x 46 x 28 mm camera with a C/CS-Mount lens mount, weighs only 41g, and is also suitable for use in robotics and pharmaceutical applications. All three models are equipped with CMOS image sensors from Aptina or e2v, ranging from 1.3 to 5 MPixel models. Integration and camera handling for all models is done via UDS' interface-independent software suite.
IDS is referring to these USB3 Vision cameras as "all-rounders," meaning that they will be supplied with a monochrome, color, or NIR sensor and will be suitable for a wide range of applications. Series production is expected to begin in Q4 2014.
View more information on USB 3.0 cameras from IDS.
Also check out:
Global expansion aids record-setting 2013 for German machine vision market
VDMA: European machine vision industry to grow 12% in 2014
Global Machine Vision Interface Standards brochure now available online
Share your vision-related news by contacting James Carroll, Senior Web Editor, Vision Systems Design
To receive news like this in your inbox, click here.
Join our LinkedIn group | Like us on Facebook | Follow us on Twitter | Check us out on Google +