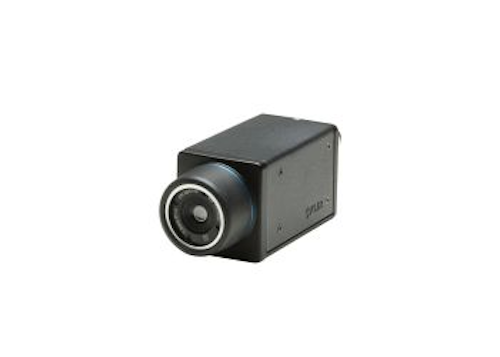 FLIR A35 is a stabilized, nonradiometric longwave infrared (LWIR) thermal imaging camera that is able to fit in tight spaces common to machine-vision applications (measures 4.2 x 1.6 x 1.7 in.). Plug-and-play compatibility is achieved with GiGE Vision and GenICam protocols. The LWIR camera streams 320 x 256-pixel images at 60-Hz frame rate, with <50 mK thermal sensitivity. A35 is available with a 9-mm (25-degree) or 19-mm (48-degree) lens.
FLIR Systems
Portland, OR, USA
-- Posted by Vision Systems Design
View More Vision+Automation Products
Locate a vendor or system integrator in our Online Buyer's Guide
---
NEW PRODUCT PRESS RELEASE
FLIR Introduces Compact, High-Performance A35 Machine Vision Thermal Imaging Camera
Affordability, Small Form Factor Fulfill Market Need
Portland, OR – FLIR Systems, Inc. (NASDAQ: FLIR) introduces FLIR A35, a stabilized, non-radiometric longwave infrared thermal imaging camera built to fit in the tight spaces common to Machine Vision applications. At 4.2" x 1.6" x 1.7", and starting less than $5,000, multiple A35s can be efficiently integrated into every production line.
Featuring FLIR A-Series standard features, such as plug-and-play compatibility through GiGE Vision and GenICam protocols, 60 Hz frame rate streaming 320 x 256 resolution images, and <50 mK thermal sensitivity, A35 is rugged, lightweight and easy to install all over a manufacturing facility.
The FLIR A35 fills a crucial gap in Machine Vision applications. "Up to now, if integrators wanted thermal imaging in a system where space was at a premium they would have to sacrifice functionality or even forego the benefits of thermal imaging altogether," says Paul Czerepuszko, Business Development Director at FLIR Systems. "The A35 lets integrators get more innovative with their systems. The combination of size and affordability opens the doors to several new applications."
A35 is available now with a 9 mm (25˚) or 19 mm (48˚) lens.
About FLIR Systems:
Pioneers in infrared technology, FLIR designs, manufactures, and supports thermal imaging systems and subsystems for industrial, scientific, government, commercial, and firefighting applications. With a 40-year history of infrared innovation, +100,000 systems in use worldwide, and development centers and sales offices in over 60 countries, FLIR is the world leader in thermal imaging technology.
The Forward Looking Infrared Company
FLIR Systems, Inc. ● 27700 SW Parkway Avenue ● Portland, OR 97070 ● USA
Telephone: +1.877.773.3547
SOURCE: FLIR Systems