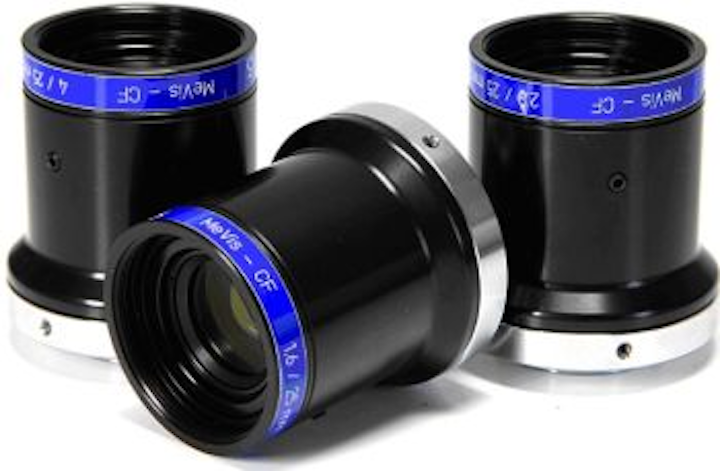 The latest in the MeVis-C lens series, MeVis-CF lenses feature a more compact housing with optical data identical to that of the MeVis-C. The fixed-aperture C-mount lenses accommodate sensors up to 1 in., and are available in 16-, 25-, 35-, and 50-mm focal lengths for high-performance imaging with low distortion and brightness drop as well as necessary color correction.
Qioptiq
Asslar, Germany
-- Posted by Vision Systems Design

View More Vision+Automation Products

Locate a vendor or system integrator in our Online Buyer's Guide

---
NEW PRODUCT PRESS RELEASE
Qioptiq presents a new series of the time-tested MeVis lenses: MeVis-CF - Highest imaging performance in a compact, rugged housing
Qioptiq has offered the MeVis-C lenses for the widely used C-mount cameras with sensor sizes of up to 1" for many years. Especially for today's high-resolution sensors, MeVis-C lenses are the ideal match. With exceptionally high resolution over the entire image circle, low distortion and good color correction, as well as low brightness drop, MeVis-C enables solutions for sophisticated image processing tasks.
Building on the MeVis-C series, Qioptiq has now developed MeVis-CF lenses featuring the long-established optics in an even more compact housing, to meet the most rigorous requirements. With this new series, Qioptiq supports applications that call for maximum image quality in a compact and rugged housing. Their optical data is identical with that of the proven MeVis-C series. Moreover, the fixed aperture means the lens takes up the least possible space while preventing operator error. These lenses are available in a number of variants with different apertures, making it possible to offer customer-specific versions with special aperture shapes.
• Highest imaging performance
• Compact and rugged housing
• C-mount with up to 1" sensor size
• Available focal lengths: 16, 25, 35 and 50 mm

About Qioptiq
Qioptiq designs and manufactures photonic products and solutions that serve a wide range of markets and applications in the areas of medical and life sciences, industrial manufacturing, defense and aerospace, and research and development. The company is known for its high-quality standard components, products and instruments, its custom modules and assemblies, its leading-edge innovation, its precision manufacturing and its responsive global resourcing. Through a series of acquisitions, Qioptiq has an impressive history and pedigree, and benefits from having integrated the knowledge and experience of Avimo, Gsänger, LINOS, Optem, Pilkington, Point Source, Rodenstock, Spindler & Hoyer and others. Qioptiq has a worldwide presence with locations throughout Europe, Asia and the USA, employs over 2,100 people, and generated revenues of approximately US$380 million in 2010.
SOURCE: Qioptiq