Embedded system features programmable I/O
"More and more," says Ken Romano, founder of Imaging Solutions Group (ISG; Fairport, NY, USA; www.isgchips.com), "customers are demanding stand-alone vision systems that embed a variety of camera inputs, programmable FPGAs, host PCs, and custom I/O controls for lighting and machine-vision control."
Aug 1st, 2006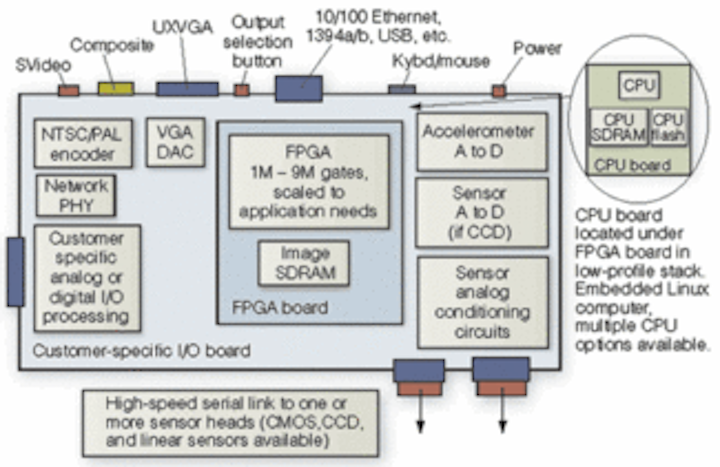 Andrew Wilson, Editor, andyw@pennwell.com
"More and more," says Ken Romano, founder of Imaging Solutions Group (ISG; Fairport, NY, USA; www.isgchips.com), "customers are demanding stand-alone vision systems that embed a variety of camera inputs, programmable FPGAs, host PCs, and custom I/O controls for lighting and machine-vision control. By replacing traditional frame-grabber-based PC systems," he says, "our customers can run their own applications on industry-standard operating systems such as Linux, while dramatically lowering the cost of their embedded machine-vision system."
In traditional PC-based designs, a frame grabber may be used to capture images from a CCD or CMOS-based cameras. To perform motion control of the system, another digital I/O board may be needed to be interfaced to a PLC or to control lighting. In many systems, other functions such as data acquisition are performed by a third analog-to-digital converter board. By embedding all of these functions in its Smart Vision Processing System (SVPS), ISG has reduced the cost of such systems to less than $2000 in OEM quantities.
To display or transfer images using the SVPS, a number of options are provided (see figure). For standard TV monitor connections, an NTSC/PAL encoder is used, while additional interfaces support 10/100 Ethernet, 1394a and 1394b, and USB. Because outputs from these cameras are routed directly through either the NTSC encoder/decoder or a VGA DAC, images can be displayed directly as they are captured.
At present, ISG also offers a number of sensor modules that can be used with the system. These include a 5.1-Mpixel sensor module based on the MT9P001 CMOS imager from Micron Technology (Boise, ID, USA; www.micron.com) and a 6.6-Mpixel module based on the IBIS4-6600 sensor from Cypress Semiconductor (San Jose, CA, USA; www.cypress.com).
To enable remotely mounted high-speed linear or area-array CCD or CMOS-based imagers, the system also supports a high-speed serial link to up to two independent sensors. "With a wide range of off-the-shelf cabling options," says Romano, "this allows any CMOS or CCD imager to be interfaced to the system at distances of up to 21 ft."
After images are digitized they are pipelined through a Stratix II gate array from Altera (San Jose, CA, USA; www.altera.com). "Implementing a full-color image-processing pipeline in this gate array offloads the embedded CPU and at the same time controls the system's I/O functions," says Romano. ISG also provides a number of other user-callable functions including those for noise reduction and image feature extraction that can be embedded in the device. Software and FPGA code updates can be downloaded over the system's Ethernet interface and stored in the system's 64 Mbytes of on-board flash memory.
To provide control for the system, the SVPS includes a number of user-selectable modules based around the ColdFire series of CPUs from Freescale Semiconductor (Austin, TX, USA; freescale.com). These include modules based on the low-cost 5200 CPU and the high-performance 5474 families. These modules all include on-board SDRAM and CPU flash memory. "In designing these modules," says cofounder Kerry Van Iseghem, "we offer the OEM customer simple, low-cost microprocessor-based systems based on the 5200 or full-fledged CPUs such as the 5474 CPU that can run uC Linux or standard Linux." For additional flexibility, the system's on-board PCI slot allows developers to add off-the-shelf PCI boards as required.
In current OEM applications of the SVPS, ISG provides five digital inputs and five digital outputs that are controlled using the FPGA using Linux-based software running on the system's CPU. These I/Os feature screw terminals that allow systems developers to use the 5V I/O lines to control motion control, lighting and PLCs. For data acquisition functions, the board also incorporates analog or digital I/O that can be tailored to meet a customer's requirements. "Already," says Van Iseghem, "the system has been integrated into an optical gauging system where the customer was previously using a PC-based solution with two off-the-shelf add-in boards."