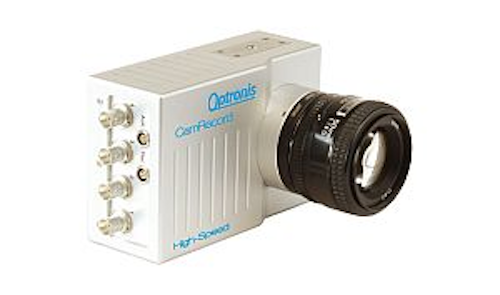 The CL4000CXP CoaXPress camera transfers image data in real time (at up to 25 Gbits/s) using four CoaXPress data channels. The camera's 4-Mpixel CMOS sensor enables capture of up to 500 images/s. A high-speed global shutter brings shutter times down to 2 μs and freezes quick object movements. With 40-m coax cables, data connections are achieved at the highest transfer rate, and cables up to 100 m can support reduced transfer rates.
Optronis
Kehl, Germany
-- Posted by Vision Systems Design

---
NEW PRODUCT PRESS RELEASE
CoaxPress Camera
Optronis GmbH introduces its CoaxPress high-speed camera CL4000CXP. The camera transfers image data in real-time with a speed of up to 25 Gigabit/sec using 4 CoaxPress data channels. With this data transfer speed, the 4 MegaPixel CMOS camera reaches an image rate of 500 images/sec. The high-speed global shutter of the CMOS image sensor allows shutter times down to 2 microsec and freezes even fastest object movements. With "power over CoaxPress" the camera will be supplied by use of the data channels. With the use of coax cables data connections up to 40 meter at highest transfer rate and up to 100 meter with reduced transfer rate can be achieved. This allows to build, independent of expensive fiber connections and repeaters, simple, cost-effective and yet high-performant image acquisition systems.
[From model brochure]
In brief:
-500 images per second with full resolution
-Sensor resolution 4 MPixel
-Very compact housing
-CoaxPress high-speed interface
-Monochrome / Color
-Real-time image data transfer
-Very high light sensitivity
Model Overview
CR4000x2 /options
/M or /C
Monochrome or color sensor
/FM or /CM
Nikon F-Mount or C-Mount
Optional Accessories
Lenses, lights, tripods, cables and more accessories on request.
SOURCE: Optronis GmbH