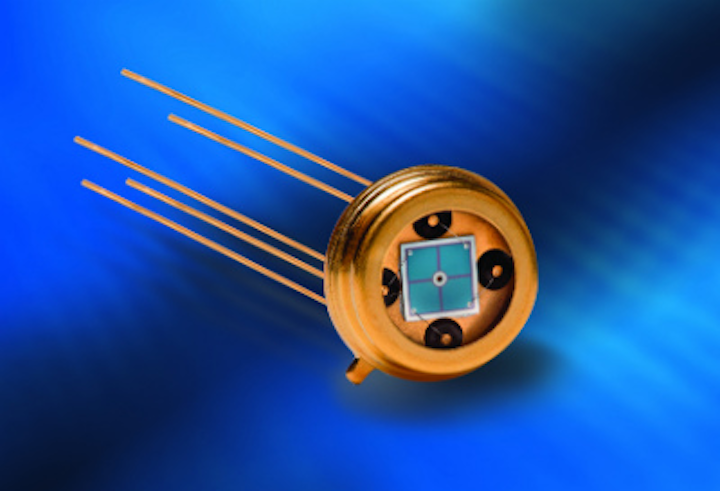 OSI Optoelectronics will be showing its new Annular Quadrant Silicon Photodiodes, used for backscatter reflectivity measurements, at SPIE Photonics West 2019. The devices operate between 350 nm and 1100 nm with a typical peak wavelength of 980 nm. With responsivity at 790 nm, the typical A/W is 0.52.
The silicon quadrant detector, an annular package design, includes a 200 µm laser-cut hole on the chip and the header, enabling fiber coupling from the back of the detector. TO-5 and TO-8 packages are available. The active area on each element is 1.6 mm2 and 19.6 mm2 respectively, and the element gap between the segments is ~0.10 mm. The backscatter detector operates between -20° and +60° C, with storage temperatures ranging from -20° to +80° C.
OSI Optoelectronics will be showing the new photodiodes in BiOS booth 8346 and Photonics West 2019 booth 4883.

To Learn More:
Contact: OSI Optoelectronics
Headquarters: Hawthorne, CA, USA
Product: Annular quadrant silicon photodiodes
Key Features: Operate between 350 nm and 1100 nm, peak wavelength of 980 nm.
What OSI Optoelectronics says:
View more information on the Annular quadrant silicon photodiodes.
View More Products | Locate a vendor or system integrator | Receive e-mail updates
Share your vision-related news by contacting Dennis Scimeca,Associate Editor, Vision Systems Design

To receive news like this in your inbox, click here.
Join our LinkedIn group | Like us on Facebook | Follow us on Twitter