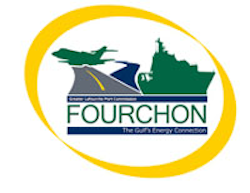 The Greater Lafourche Port Commission, a political subdivision of the state of Louisiana, facilitates the economic growth of the communities in which it operates by maximizing the flow of trade and commerce. We do this to grow our economy and preserve our environment and heritage. Established by the state of Louisiana in 1960, the Port Commission exercises jurisdiction over an area of Lafourche Parish, south of the Intracoastal Waterway, including Port Fourchon and the South Lafourche Leonard Miller, Jr. Airport.
The Commission has targeted Port Fourchon for growth and development of Port facilities because of its ideal geographic location on the Gulf Coast. Fourchon's primary service market is domestic deepwater oil and gas exploration, drilling, and production in the Gulf of Mexico. Fourchon is comprised of 1,200 developed acres that house state of the art service facilities and is in the midst of its Northern Expansion project, which will double the port's size and will further accommodate the industry's growing needs.
In addition to developing Fourchon, the Commission has expanded the services of the South Lafourche Leonard Miller, Jr. Airport since acquiring it in 2002. This general aviation airport sits on 359 acres in Galliano, Louisiana and is surrounded by 1,200 acres of commission-owned property slated for industrial development. Its close proximity to Fourchon makes it the airport of choice for both business and recreational travel to South Louisiana.
Request More Information
Fill out the form below to request more information about Port Fourchon.
---