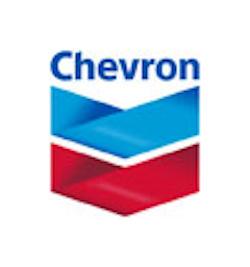 Chevron Products Company, a leading provider of engine oils, lubricants, coolants and related services, is a division of a wholly owned subsidiary of the Chevron Corporation (NYSE: CVX). A full line of lubrication and coolant products are marketed thorough this organization under the Chevron, Texaco and Caltex brand names. Select brands include Havoline®, Delo®, Ursa®, Revtex® and Texaco Xpress Lube®. ChevronTexaco Products Company owns patented technology in advanced lubricants products and new generation base oil technology, as well as coolants. Headquartered in San Ramon, CA, Chevron Products Company, together with its Chevron affiliates worldwide, is ranked among the top three global marketers of lubricants, and is active in more than 180 countries through 4,000 employees. For more information go to:
Request More Information
Fill out the form below to request more information about Chevron Products Company.
---