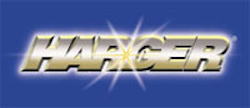 Since 1960, Harger Lightning & Grounding has been providing solutions to the lightning protection and grounding industries. We have experience in all facets of these markets including engineering, systems design, product manufacturing and installation. As a leading US manufacturer of Lightning Protection and Grounding Equipment, Harger couples extraordinary service with high quality products to provide the ultimate in lightning protection and grounding systems. In addition to lightning protection products, Harger also offers unique grounding products such as ULTRAWELD® exothermic connections, flat strap signal reference grids, wire mesh and personnel safety mats, ULTRAFILL® ground enhancement backfill, fence and gate jumpers, fence grounding products, compression lugs, coaxial ground kits, UL listed ground bars, electrolytic ground rods and other specialized ground electrodes. Only the finest materials are used in our products so be assured if Harger manufactures it, it's the highest quality product available and will be delivered to meet your schedule.
Request More Information
Fill out the form below to request more information about Harger Lightning & Grounding.
---