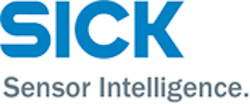 SICK is a leading manufacturer of intelligent sensors and sensor solutions for industrial applications. With more than 8,000 employees and over 50 subsidiaries SICK is the world's leading supplier of industrial sensors. As an innovation leader that develops cutting-edge sensor technology, SICK is a trusted supplier of automation solutions for manufacturing and logistics environments. Its Industry 4.0 ready solutions and world class support services ensure efficient, safe and economical automated processes throughout the industrial and retail supply chain.
Products from SICK range from simple photoelectric sensors to sophisticated, image-based track and trace systems. Thanks to extensive application expertise in the manufacturing, retail distribution, and parcel logistics sectors, SICK can optimize your processes right down to the smallest detail to help achieve maximum productivity.
Visitwww.sick.com for more information.
Request More Information
Fill out the form below to request more information about SICK, Inc..
---