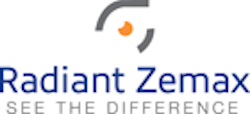 22908 NE Alder Crest Dr
Suite 100
Redmond, WA
Radiant Zemax is a global provider of test, measurement and design tools and systems to the optics, illumination and display industries. Our tools and systems reduce cost, lower risk and shorten time-to-innovation. We offer a range of high-quality products that improve and optimize product design and quality while meeting cost goals.
Product lines include the industry standard Zemax optical and illumination design software; TrueTest™ automated optical inspection for display systems, and ProMetric® Imaging Colorimeters and Photometers, Goniometers and Imaging Spheres; and ProMetric production testing software. Radiant Zemax also has proven production experience with thousands of cameras testing millions of lights and displays, improving production quality and efficiency, and delivers advanced research and development capabilities and production-line testing through analysis software to flat panel display and LED manufacturers.
We draw on such a large IP and technological toolbox, based on our longstanding commitment to innovation, we approach each application with a wider range of solution options, a global base of experience, and a depth of understanding that enable us to keep raising the benchmarks for practical performance. And by backing our systems with outstanding, consultative technical support, we ensure that our clients receive and retain all the value built into our systems.
Request More Information
Fill out the form below to request more information about Radiant Zemax.
---