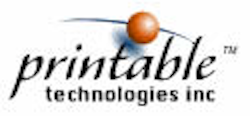 Printable Technologies provides the only turn-key, end-to-end platform for online value-added services around print. Available as three modules: PrintOne Customer Center, Printable Dashboard, and Printable Manager, Printable delivers real-time integrated business communications applications, online ordering and e-commerce, versioned and variable documents, job submission, and file transfer. End users access printed products from catalogues and customer centers set up, controlled, and maintained by their printer. Printable integrates with ERP solutions such as Ariba, SAP, and Oracle; content management solutions like Documentum; accounting and shop floor management applications such as Prism and Quantum; and major digital production workflows from Hewlett-Packard, NexPress, and others. Today more than 500 printer customers use the Printable system to serve more than 1000 corporate customers. Improved efficiency for every aspect of the procurement process means printers enjoy higher revenues, new business growth, and better customer retention.
Request More Information
Fill out the form below to request more information about Printable Technologies, Inc..
---