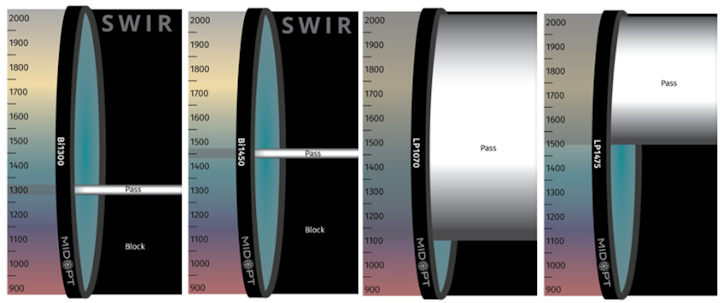 Now the same types of Bandpass, Longpass, and Polarization techniques that control visible light are available to control SWIR (Short-Wave Infrared) Lighting. Bandpass and Longpass filters pass a specific range of wavelengths in the 700nm-2,000nm range. The Neutral Density and SWIR Polarizing Filters work in the 400nm-2,000nm range.

SWIR polarizing film is available in cuttable sheets with and without adhesive backing, with sheet sizes from 2-inch X 2-inch to 10-inch X 3.45-inch. You may be using near-IR LEDs, but glare exists in the near-IR too and standard polarizers won't work. Mounted glass SWIR polarizers are also available.
Request More Information
Fill out the form below to request more information about SWIR Filters From Midwest Optics Address the 700nm-2,000nm Imaging Range.
---