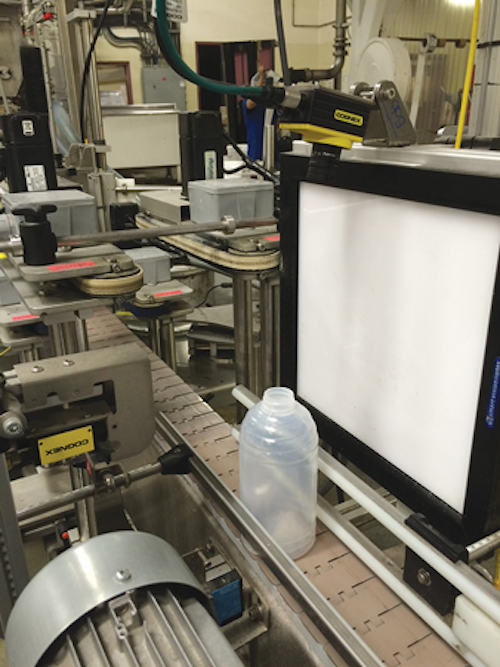 Food manufacturers use vision systems to increase productivity, ensure product quality, and check package integrity.
In many cases, containers must be correctly oriented before they can be labelled. This was the task faced by Harris Jones, Vice President of Engineering at Advanced Control Solutions (ACS; Marietta, GA, USA; www.acs-ga.com) when developing such a system for a well-known supplier of bottles of honey.
"Bottles moving along the production line at 80 bottles per minute can be positioned in four different orientations (0, 90, 180 and 270 degrees)," says Jones. "We must detect this orientation and then communicate with a servo drive to rotate the bottle prior to appling the labels. Becuase the threads are in a repeatable relationship with respect to the body, they can be used to determine the bottles' orientation."
Jones and his colleagues at ACS used a white 24in x 24in Large Light Panel (LLP) flat panel illuminator from Smart Vision Lights (SVL; Muskegon, MI, USA; www.smartvisionlights.com) to backlight the bottles as they move along the production line. An In-Sight 1400 smart camera from Cognex (Natick, MA, USA; www.cognex.com) captures images of the threads (Figure 1).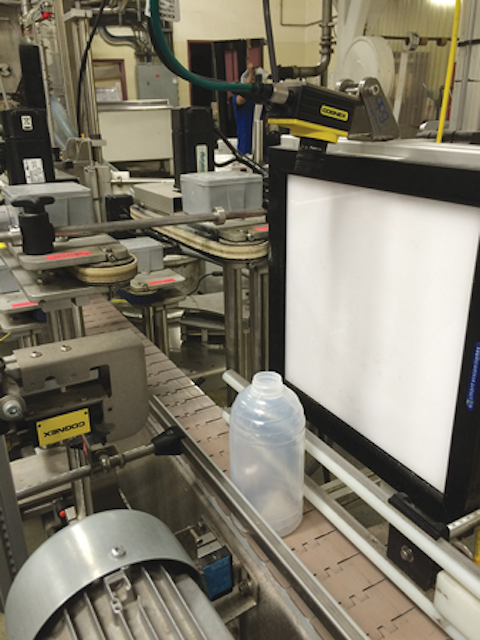 Figure 1: To correctly orient bottles as they move at speeds of 80 parts per minute on a production line, ACS has developed an automated vision system that employs two smart cameras and an illumination system that is used to both front and back light the bottles.
"Measuring the thread position allows the Cognex software to determine how to properly orient the bottle using the servo drive."
While successful, ACS was also challenged with enhancing the system to accommodate bottles from a different supplier. "The same approach could not be taken due to random body and thread orientation," says Jones.
To overcome this, an In-Sight 7200 smart camera (also from Cognex) was mounted at a low angle from above to image the side of the new bottles. In this configuration, the same backlight creates a repeatable reflection on the side of the bottle. The reflections vary depending on bottle orientation, allowing image analysis to determine the bottle orientation. "Since the same backlight was for the original set-up, both old and new style bottles can be run through the system," says Jones.
The system, which was presented at this year's Smart Vision Lights Innovative Illumination Summit, was the winner of the best presentation. Harris Jones accepted the award from Bobby Seagraves, Director of Sales and Marketing at SVL and Dave Spaulding, President of SVL (Figure 2).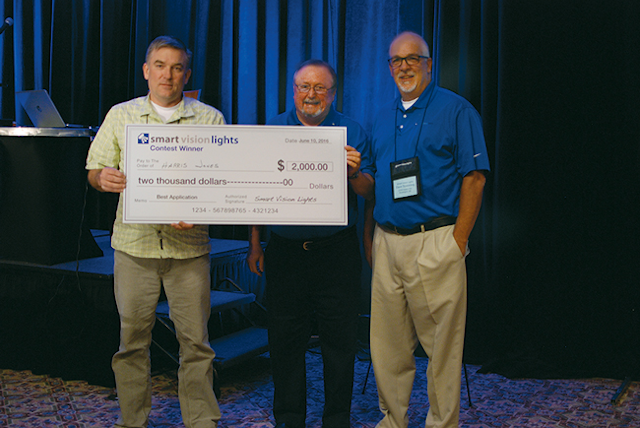 Figure 2: At this year's Innovative Illumination Summit, Harris Jones (left), Vice President of Engineering at Advanced Control Solutions accepts an award for $2,000 from Bobby Seagraves (center), Director of Sales and Marketing at SVL and Dave Spaulding (right), President of SVL.