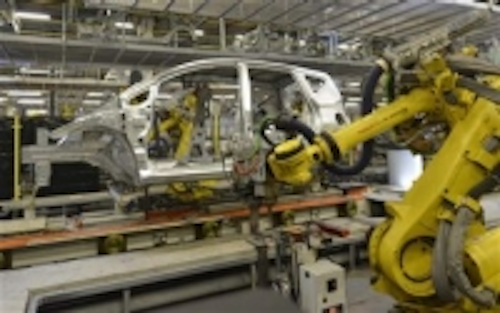 In the first half of 2015, 793,642cars were built in the United Kingdom, representing a 0.3% rise year over year and the best half-year since 2008.
The figures, released by The Society of Motor Manufacturers and Traders (SMMT), indicate that during the time period of January through June, three cars were made per minute in the UK. Mike Hawes, SMMT chief executive, said in aTelegraph article that the figures indicate that the UK's investment in high-tech manufacturing had paid off.
"This success has been built on significant industry investment and has also relied on a positive relationship with government, essential if the industry is to maintain its international competitiveness," he added.
Manufacturing principles such as those that have been used inGerman manufacturing has resulted in a transition which has seen the performance of the manufacturing sector in the UK change rapidly, and all for the better, Earl Yardley, director at Industrial Vision Systems, suggested.
"UK factories continue to make products that are more competitive now than at any time in the modern era. This is exactly why UK manufacturing must be at the centre of a better-balanced economy," he said.
There are a number of reasons why this is the case, said Yardley, whose company suppliesinspection technologies for the automotive industry, among others.
"There are several reasons why this is the case. Across the automotive industry there is increasing demand for automation and control, in our case we supply multi-camera inspection systems which are critical to the modern factory, particularly for the automotive market," he said.

He continued, "This in turn increases productivity for manufacturers. And of course there is a better quality and more skilled workforce; a shift from the production of low to high productivity goods; an improvement in the information technology base; and more investment in research and development. We are no longer playing second fiddle. Together, with Germany, we are leading the manufacturing revolution across Europe."
Yardley's comments are validated by Dick Elsy, the chief executive of the High Value Manufacturing Catapult (HVMC), whichbrings together industry, academic institutions, and government to develop techniques and technologies.
"The car industry is very sophisticated, it has a very rigorous approach to improve productivity on a daily basis by constantly taking waste out of everything that it does, from making engines to assembling cars and even ordering parts," he said. "It also invests heavily in the latest manufacturing technologies - such asrobots, which do things faster and with better quality than old equipment - that allow for a step-change in improvement in productivity when they are introduced."
Car manufacturers, according to the article, have invested large sums of money in UK plants and research over the past few years. One such example is Jaguar Land Rover, which alone has spent £10 billion over the past decade and has £3.6 billion-worth of plans for 2015/16 to modernize facilities and improve production, encouraged by the Government's industrial strategy for the automotive sector.
View theTelegraph article.
Share your vision-related news by contactingJames Carroll, Senior Web Editor, Vision Systems Design
To receive news like this in your inbox,click here.
Join ourLinkedIn group | Like us on Facebook | Follow us on Twitter| Check us out on Google +