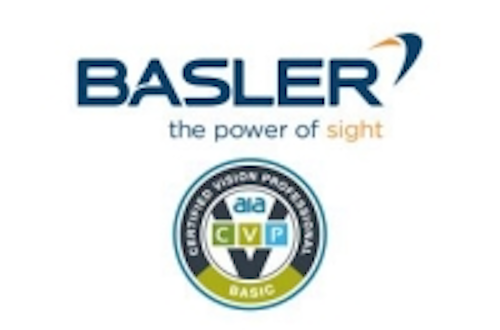 In order to improve upon their knowledge of optics,camera, and sensor technologies, sales staff of Basler, Inc., the US-based subsidiary of Basler AG, received certification as Certified Vision Professionals (Basic) from the AIA.
The staff members took educational courses from the AIA on the fundamentals ofmachine vision, camera and image sensor technology, lighting, optics and image processing. The team learned about the fundamental parameters of optical layout, field of view, resolution working distance, and depth of field, as well as the common pitfalls of machien vision system design.
Following the course, the sales staff passed the certification exam and became Certified Vision Professionals (Basic). To maintain this certification they will have to continue education and get another test every three years.
"Basler is focused on continuous improvement, on-going professional development and providing our customers with the highest levels of support and expertise. We see the AIA CVP program as a key component of these efforts," said Russ Seery, Director of Sales – Americas of Basler, Inc.
Two places where those interested in receiving Certified Vision Profesional certification will be able to do so are at two newly-announced AIA events. The first event, the inaugural Vision in Life Sciences Conference, will be held November 19 in San Diego and will feature in-depth presentations on cutting edgevision technologies used in life sciences applications.
Additionally, the training and certification programs will be offered at the first ever Canadian Machine Vision Conference, which will be held October 5-7 at the National Research Council's downtown Ottawa, ON location, and will feature -depth presentations on such topics as machine vision research, emerging applications, getting started with machine vision,3D vision, non-visible imaging, smart cameras and vision sensors, vision-guided robotics, advances in camera technology, machine vision software, and industrial inspection.
View more information onAIA Certification.
Share your vision-related news by contactingJames Carroll, Senior Web Editor, Vision Systems Design
To receive news like this in your inbox,click here.
Join ourLinkedIn group | Like us on Facebook | Follow us on Twitter| Check us out on Google +