Robotic vision system enables inspection applications
Read about the newly-launched, low-cost robotic vision system from ST Robotics, which features a GigE machine vision camera from Point Grey and a frame grabber from Matrox.

May 26th, 2015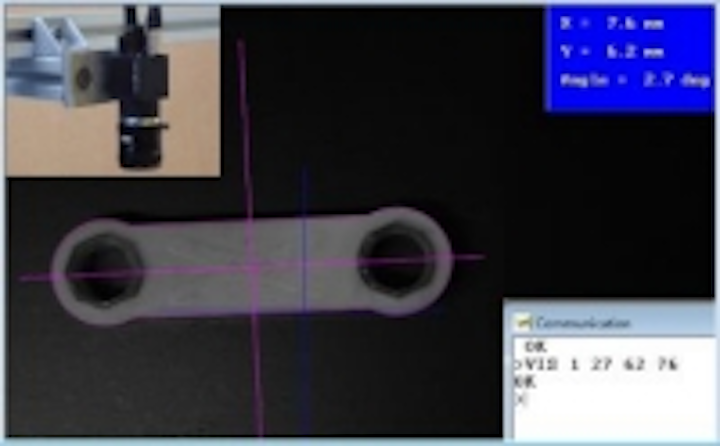 ST Robotics has announced the launch of the new ST-RVS low-cost vision system, which is compatible with the company's full range of robot arms and controller.
The vision system features a 2.7 MPixel GigE machine vision camera from Point Grey that is connected to a Matrox frame grabber, along with a C-Mount lens with zoom, focus, and exposure control, and LED lighting. A second serial channel connects to the robot controller, allowing real-time programming and testing of the communication with the camera.
RobWin GUI project management software brings together the features of the robots on one screen, and also enables the user to send commands to the vision system through the controller. The vision system can measure to 0.1 mm and send precise coordinates of an object back to the robot, according to ST Robotics.
The new system, according to David Sands, President and CEO of ST Robotics, provides cost-effective and accurate vision for such industries as automotive, consumer, electronics, packaging, and pharmaceutical.
In the video embedded here, the vision system is shown in an industrial packaging application in which the position of the object on the conveyor is not in a standard repeatable position. The ST-RVS vision system sends coordinates to the robot which orients the gripper, regardless of the object's position.
ST Robotics, which is based in Princeton, NJ, USA, also has offices in the United Kingdom and Asia, provides bench-top robots for such companies and institutions as Lockheed-Martin, Amazon, Motorola, Honeywell, MIT, NASA, Pfizer, and Sony.
View more information on ST Robotics.

Share your vision-related news by contacting James Carroll, Senior Web Editor, Vision Systems Design
To receive news like this in your inbox, click here.
Join our LinkedIn group | Like us on Facebook | Follow us on Twitter | Check us out on Google +