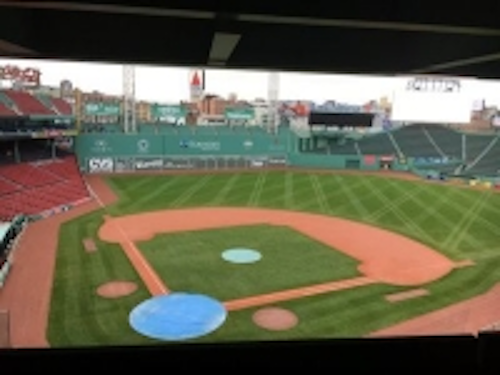 Throughoutthree busy days at the Hynes Convention Center in Boston, I held numerous interesting conversations with industry experts, saw innovative new productsand demonstrations, and even got to see my home team's ballpark in a way that I've never experienced at the AIA's networking event on Tuesday night. (The above photo was captured with my iPhone at the event.)
For me, the event, which was the AIA's largest to date, was a success. When I asked Jeff Burnstein, A3 President, why this year's show was the largest to date, he explained that there is continuing and increased interest in vision as a critical technology, and that imaging has gone beyond just "the factory floor." Additionally, with the RIA's co-hosted Collaborative Robots exhibit, more people are drawn to see "how vision works with collaborative robots."
Throughout the next few weeks, I will release a series of articles that detail some of the interviews that I held on the show floor. These will take a look at market trends and future growth areas, hot topics in the industry, new and exciting products, and a look toward the future. When I asked about certain trends or growth areas, some of the terms I heard on more than one occasion, were:
Embedded imaging
Multi-camera systems
Multispectral/hyperspectral imaging
Aerial imaging
Autonomous vehicles
Beyond that, there were plenty of novel new products and innovations at the show, which Andy may touch on at some point. This includes all of the contestants involved in the AIA's first ever Startup Competition, which was held on May 5. The show theater that held the competition was full, and people lined up outside to hear from some up and coming companies things like hardware and software vision products, motion capture technology, AI-based image analysis software, compact embedded vision, and more.
The winner of the competition, which was awarded $10,000, was Brohan, a company that develops computer vision-assisted native advertising for video and virtual reality. The unblockable software automatically identifies surfaces inside your video and VR content that can host ads, then matches those spaces with ads, which do not disrupt the audience's viewing experience, since it blends into the video.
Last but not least, I would be remiss to mention our second annual Innovators Awards program ceremony. The AIA's show floor theater provided an excellent location for us to celebrate the disparate and innovative technologies, products, and systems found in the machine vision and image processing industry. Numerous companies were honored at the bronze, silver, gold, and platinum levels, with many of these companies accepting their awards live and in person at the event. Keep an eye out for a photo slideshow of the ceremony, and read more about the awardshere.
Take a look at my live updates from the show floor, via our Twitter feed, here.