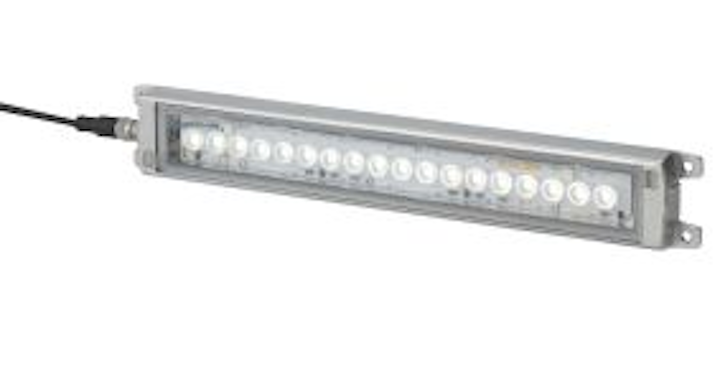 PATLITE's CLK-SA LED worklights are designed with a stainless steel body and clear acrylic PMMA resin lens cover—part of its IP69K-rated sealed enclosure—which enables the lights to withstand high-temperature, high-pressure washdowns. CLK-SA lights measure just 376 mm x 56 mm x 20.5 mm with an evenly distributed daylight luminance of 1,200 lux. In addition, the LED lights operate on 24 VDC and consume just 12.5W of energy. PATLITE's CLK-SA LED lights are suited for use in food and beverage,pharmaceutical, chemical, machine tool, and manufacturing applications.
To Learn More:
Contact:PATLITE
Headquarters: Torrance, CA, USA
Product: CLK-SA LED worklights
Key Features: IP69K oil and water resistant enclosure, 376 mm x 56 mm x 20.5 mm size, 1,200 lux luminance, even light distribution via "Micro-array lens."

What PATLITE says:
View more information on the CLK-SA LED lights.
View More Products| Locate a vendor or system integrator | Receive e-mail updates
Share new products that you think are particularly interesting or helpful by contacting James Carroll, Senior Web Editor, Vision Systems Design.
Join our LinkedIn group | Like us on Facebook | Follow us on Twitter | Connect on Google +