Organized by the China Society of Image and Graphics (CSIG; Beijing, China) and MMI (Shanghai) Co. Ltd (Shanghai;China), Vision China Shanghai will be held at the Shanghai New International Expo Centre (SNIEC) from March 19 to March 21, 2013 in Hall W1. The show will be held concurrently with LASER World of Photonics China and will feature numerous exhibitors from North America and Europe as well as those based in Asia. Keep reading for a preview of some of the companies that will be exhibiting at the show and the products that they will display.


ADLINK Technology
The EOS-1220 from ADLINK Technology (San Jose, CA, USA; http://www.adlinktech.com), displaying in Booth 1138, is a Gigabit Power over Ethernet (PoE) embedded vision system, featuring the Intel Core i5/i7 quad-core processor and providing four independent Gigabit PoE ports with data transfer rates up to 4.0 Gbits/sec.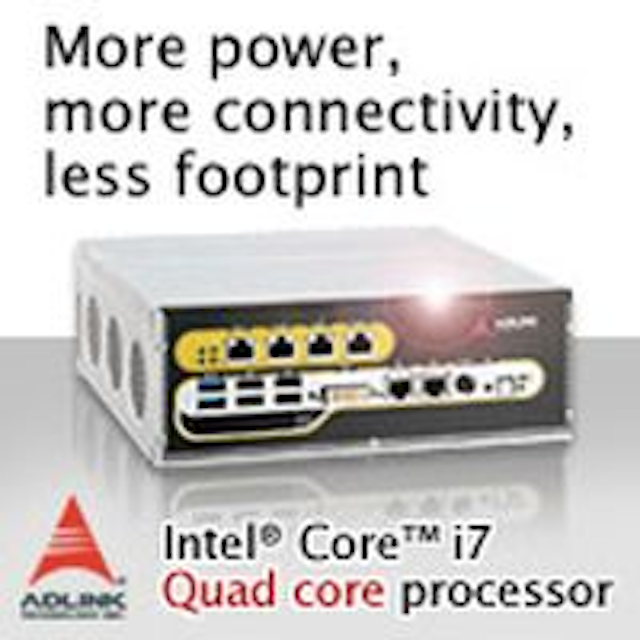 Combining PoE and IEEE 1588 support enables single-cable transmission of power, signal, and data and allows remote switching of PoE status. With this feature, camera power consumption can be monitored and controlled. The EOS-1220's I/O includes four serial ports, two USB 3.0 ports, 32 PNP/NPN isolated digital I/Os, and SATA interface. Driver support is provided for Windows 8/7/XP and Windows 7 Embedded.

China Daheng Group and MVTec Software
At Booth 1344 China Daheng Group, distributor of MVTec Software (Munich, Germany; http://www.mvtec.com) products in China, will present MVTec's machine-vision standard software HALCON 11. Olaf Munkelt, PhD, managing director of MVTec Software, will also present "Sample-based Identification: Identify Objects like Humans" at 10:40 a.m. on Tuesday during Vision China Shanghai 2013.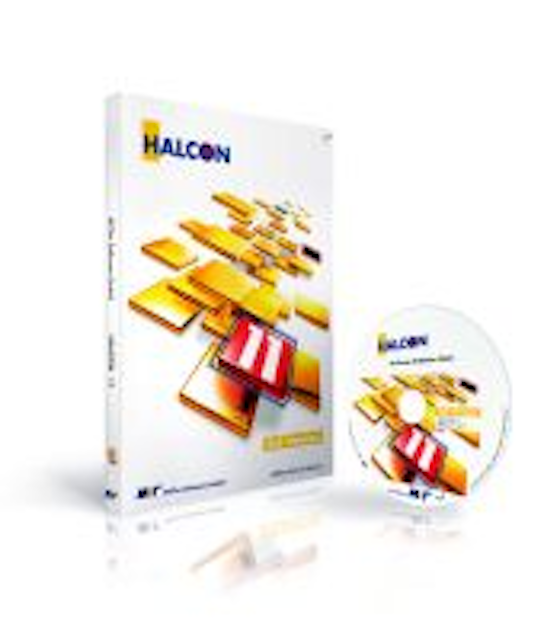 Daheng will demonstrate HALCON's 3-D vision capabilities with a robot programmed to recognize and determine the 3-D pose of arbitrary 3-D objects via HALCON's shape-based 3-D matching. After the 3-D pose of the objects is determined, the robot picks the objects and places them each to specified positions.

The Imaging Source
The Imaging Source (Bremen, Germany; http://www.theimagingsource.com) will highlight its new "23" series USB 3.0, FireWire, and Gigabit Ethernet cameras in Booth 1330, which address requirements for industrial automation, quality assurance, security, surveillance, and medical applications.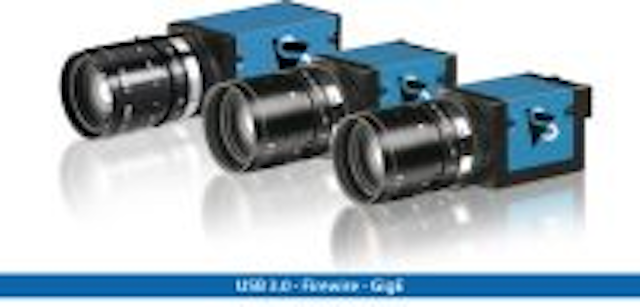 Utilizing monochrome and color CCD and CMOS sensors with resolution up to 5 Mpixels, the cameras feature a variety of input, output, strobe, and trigger options via an external Hirose port. The "23" series cameras offer up to 120 frames/sec and a trigger delay lof ess than 5 micro-sec.

IMI Technology Co. Ltd.
IMI Technology Co. Ltd (Anyang-si, Gyeonggi-do, Korea; http://www.imi-tech.com) will demonstrate its Amazon2 700 Series industrial digital cameras at Booth 1134.

Compliant with both the Gigabit Ethernet and GigE Vision standard, the cameras are offered with various resolutions and frame rates. The cameras are enclosed in a 29 x 29 x 51-mm housing and weigh 58 g.

JAI
At Booth 1118, JAI (San Jose, CA, USA; http://www.jai.com) will exhibit its SP-5000, a 5-Mpixel CMOS camera capable of running at up to 250 frames/sec. The version being demonstrated at Vision China is a monochrome camera with a CoaXPress x2 interface and a full-frame (2560 x 2048 pixels) speed of 209 frames/sec.

Additional interface choices include Mini Camera Link, GigE Vision with Link Aggregation, USB3 Vision, and CoaXPress x4. Color models support RGB or YUV interpolated output, and raw Bayer format.

LMI Technologies
LMI Technologies (Delta, BC, Canada; http://www.lmi3d.com) will be showcasing its Gocator 3D smart sensor product line at Booth 1313. Gocator 3D smart sensors perform 100% noncontact inline 3-D measurement and inspection.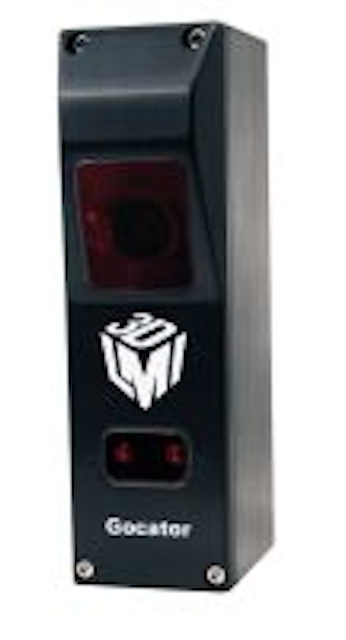 The sensors feature a web-based user interface for setup, sensor operation, and built-in measurement tools using a web browser. Attendees can schedule a personal Gocator demonstration at the tradeshow by e-mailing their contact details and availability to info@lmi3d.com.

OPT Machine Vision Tech
At Booth 1274, OPT Machine Vision Tech (Guangdong, China; http://www.optmv.com) will be showing its range of lighting products for the machine-vision industry. The company will exhibit numerous products including LED illuminators for machine vision, LED lights, machine-vision components, and other machine-vision accessories.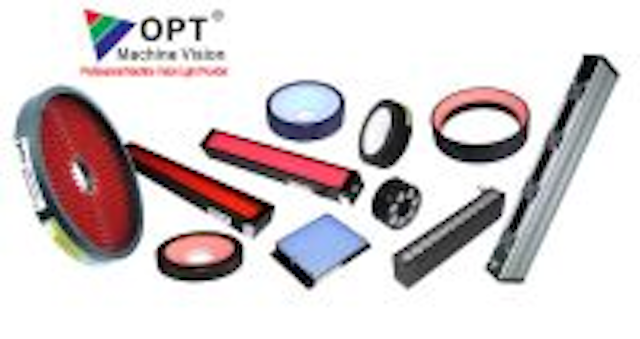 OPT Machine Vision Tech also offers a range of power supplies, frame grabbers, and complete machine-vision systems.

Pleora Technologies
An alternative to traditional frame grabbers, the iPORT external frame grabbers from Pleora Technologies (Kanata, ON, Canada; http://www.pleora.com) that will be shown at Booth 1335 use the GigE ports built into most laptops, desktops, and small-form-factor PCs, overcome the distance limitations of Camera Link, and provide for distribution of video to multiple computers simultaneously using off-the-shelf hardware.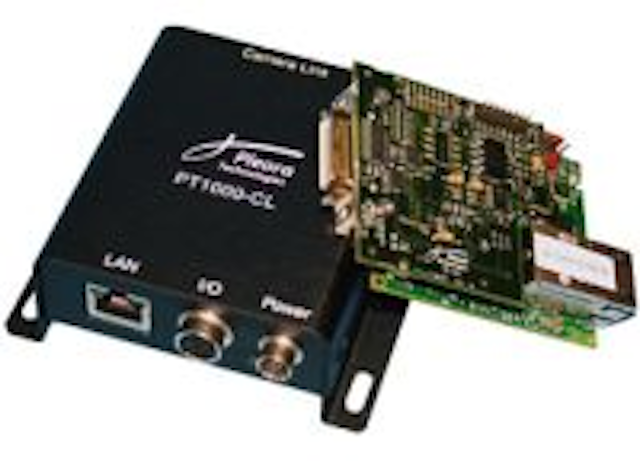 Compatible with Pleora's vDisplay IP engines, as well as the company's toolkit, eBUS SDK, Pleora's suite of iPORT external frame grabbers enable Camera Link cameras to become part of a complete networked video connectivity application over Gigabit Ethernet.

Point Grey
Point Grey (Richmond, BC, Canada; http://www.ptgrey.com) will demonstrate two camera lines at Vision China Shanghai: the Blackfly and Grasshopper3. The Blackfly camera line features PoE, measures 29 x 29 x 30 mm, and includes a 16-Mbyte frame buffer; LED status indicators; and an on-camera image-processing pipeline that provides color interpolation, gamma, and lookup table functionality. The first model uses a 1.3-Mpixel global-shutter CMOS sensor capable of running at 60 frames/sec.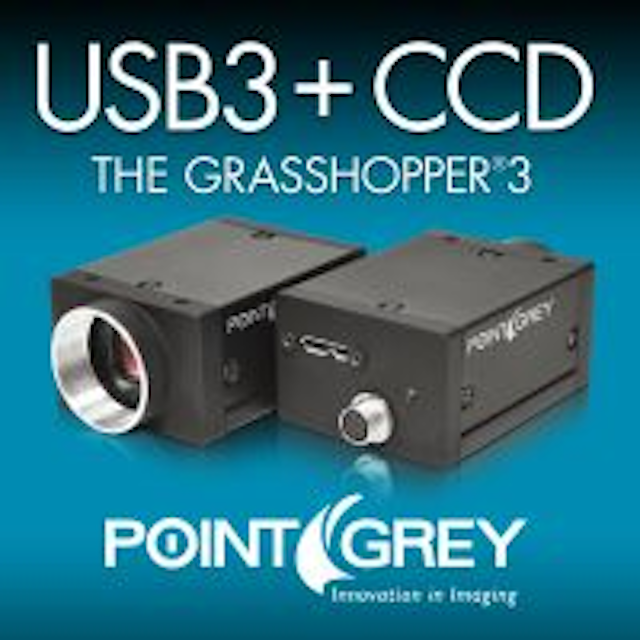 The Grasshopper3 USB 3.0 camera is FPGA-based and uses the Sony ICX687 2.8-Mpixel CCD sensor. It is capable of outputting full resolution 24-bit images at 26 frames/sec. The ICX687 sensor is capable of 1080p30 imaging and uses Sony's EXview HAD CCD II technology for improved quantum efficiency, reduced smear, and increased sensitivity, including into the near-infrared (NIR) region.

Silicon Software
The microEnable 5 frame grabbers for CoaXPress and Camera Link HS from Silicon Software (Mannheim, Germany; http://www.silicon-software.com) on exhibit at Booth 1230 are based on the PCI Express bus and implement a PCIe x8 version 2.0 interface and maximum of 2.4 Gbytes/sec for cameras with 4xCXP-6 transfer mode. Frame grabbers for the CoaXPress standard with four BNC connectors can achieve 600 Mbytes/sec per input (CXP-6).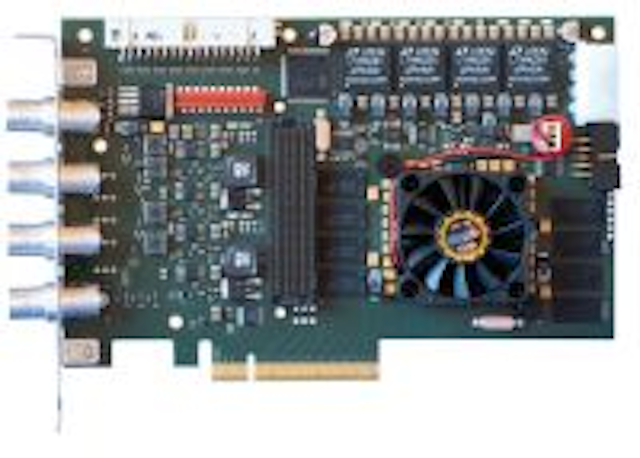 The company will also exhibit its VisualApplets 2.0 for programming of graphical-based image-processing; the SmartApplets 3D family for programming 3-D imaging functions; and microEnable IV series frame grabbers with various interfaces.

Stemmer Imaging
At Booth 1325, Stemmer Imaging (Puchheim, Germany; http://www.stemmer-imaging.de) will demonstrate the capabilities of its Common Vision Blox machine-vision library in a system used to control cameras via five different interfaces.

The company will also display three new CVB tools: CVB Video Stabilizer, CVB Optical Flow for determining motion within images (shown), and CVB Flex Inspect, a tool designed to overcome the challenges of product variation in print and pattern inspection.

Teledyne DALSA
Teledyne DALSA (Waterloo, ON, Canada; http://www.teledynedalsa.com) will feature linescan and area-scan cameras, frame grabbers, vision software, image processors, and smart camera solutions in Booth 1322 at the show.

Featured products include the Piranha4 multi-linescan camera series; the Genie TS GigE Vision camera series featuring VGA to 12-Mpixel resolution; the BOA Pro smart camera with embedded Sherlock inspection software; and GEVA 300, a compact multicamera system for industrial inspection that supports up to eight cameras.

-- Produced by Andy Wilson, Dave Wilson, and Carrie Meadows, Vision Systems Design