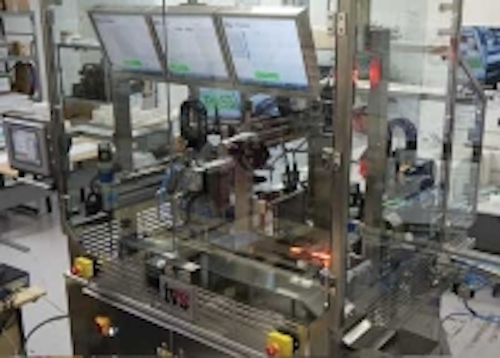 Sales of machine vision components and systems increased 11% to $1.04 billion in the first half of 2014, according to new statistics released by the AIA.
These numbers are consistent with Q1 statistics released earlier this year, when sales of components and systems in North America grew by 10%. The statistics represent the best first half performance by the North American machine vision market since the AIA began tracking quarterly statistics in 2009.
Total sales include the sales of machine vision components and vision systems. Sales of machine vision components were the major driver of growth in overall sales for the period, having grown at 28% to $155 million through June. Total sales of vision systems grew 9% in the quarter to $886 million. Q2 posted particularly strong numbers, having registered growth of 30% and 12% for machine vision components and systems, respectively.

Aside from imaging boards, every component and system category increased in Q2. These include: Cameras (41%), smart cameras (34%), lighting (28%), and software (20%).
More North American companies seem to be realizing the benefits of automation using machine vision technologies, which is a positive sign for the industry's long-term health, according to AIA President Jeff Burnstein. However, despite the positive gains, the AIA and its members are keeping expectations for the second half of the year realistic.
"Despite the booming machine vision market and manufacturing sector, AIA membership is tempering its expectations for the second half of the year," said Alex Shikany, AIA's Director of Market Analysis. "Our most recent survey of industry experts shows that the majority of AIA members believe component and systems markets will remain flat in the next six months."
The statistics released by the AIA are consistent with a number of first half reports from global machine vision companies, which may be a sign that 2014 could be a record year for the industry. Companies reporting increased sales in 2014 include:
In addition, the VDMA reported that not only did the German machine vision market reach its previously forecast 5% growth, but that sales are expected to grow another 5% in 2014 at a total turnover of 1.64 billion Euros with major growth coming from exports to North America and Asia. In addition, the VDMA expects that the European machine vision industry on the whole will grow by 12% this year.
2014, on the whole, certainly looks like it could potentially reach record-breaking figures, and reports like this only strengthen that notion.
View the AIA press release.
Share your vision-related news by contacting James Carroll, Senior Web Editor, Vision Systems Design
To receive news like this in your inbox, click here.
Join our LinkedIn group | Like us on Facebook | Follow us on Twitter | Check us out on Google +