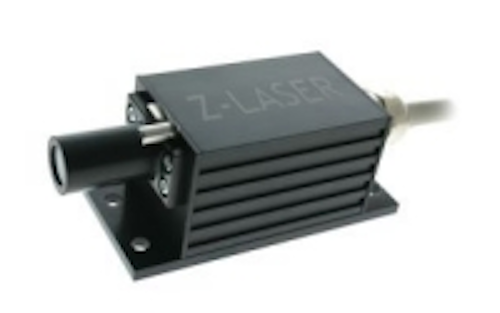 Z-LASER has announced the release of the ZQ-blue compact blue laser, which features ±15% homogeneity and is designed for image processing applications. The ZQ-blue laser is a 450nm laser diode with up to 1W output that is controlled via RS-232 or RS-485 and provides a TTL modulation up to 10 kHz or up to 1 kHz via PLC. The ZQ-blue laser can be equipped with various line and spot optics as well as a selection of diffractive optics and also features IP50 protective housing and 24VDC supply voltage. ZQ-blue lasers are suitable for use in inspection applications.
To Learn More:

Contact:Z-LASER
Headquarters: Freiburg, Germany
Product: ZQ-blue compact laser
Key Features: 450nm up to 1W output, different projections available, TTL modulation up to 10 kHz, RS-232 and RS-485.
What Z-LASER says:
View more information on the ZQ-blue laser.

View More Products| Locate a vendor or system integrator | Receive e-mail updates
Share new products that you think are particularly interesting or helpful by contacting James Carroll, Senior Web Editor, Vision Systems Design.
Join our LinkedIn group | Like us on Facebook | Follow us on Twitter | Connect on Google +