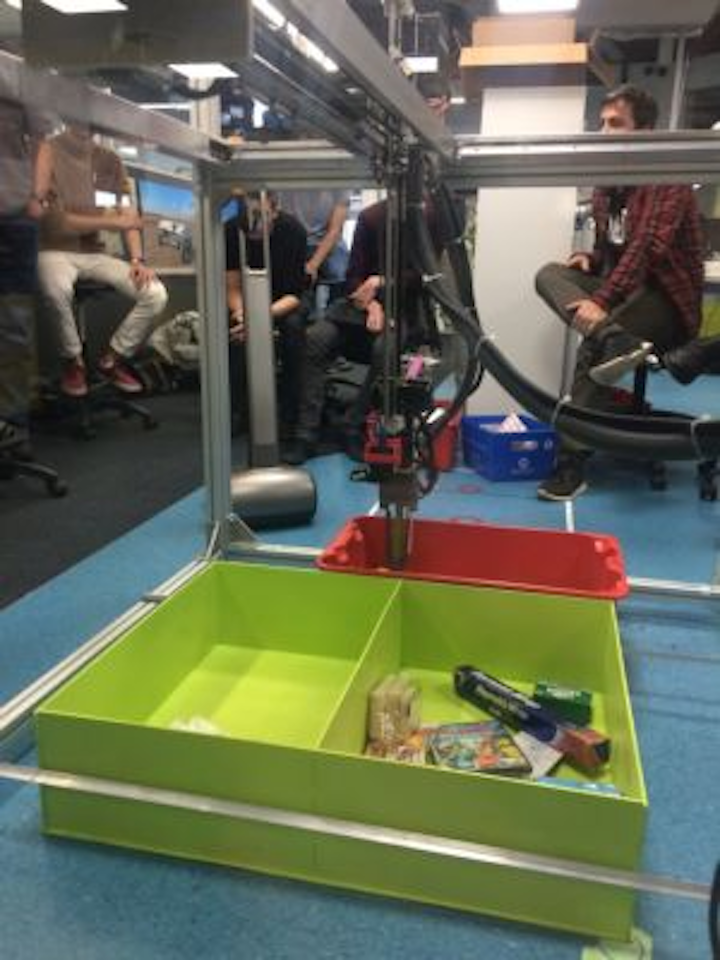 A custom pick-and-place robot developed by a team from the Australian Centre for Robotic Vision has won the 2017 Amazon Robotics Challenge, which brought together 16 teams of researchers from ten different countries to build their own hardware and software to successfully pick and stow items in a warehouse.
The Cartesian robot known as Cartman is a custom-made robot with six degrees of articulation, a claw, and a suction gripper. The robot also features a custom vision system that is used to identify the items to pick up. While the team could train the robot to recognize certain objects, Amazon switched out half of the items that were to be picked up and placed by the robot on the day of event.
"We had to create a robust vision system to cope with objects that we only got to see during the competition," saidDr. Anton Milan, University of Adelaide-based team member. "Our vision system had the perfect trade-off of training data, training time and accuracy. One feature of our system was that it worked off a very small amount of hand annotated training data. We only needed just seven images of each unseen item for us to be able to detect them."
Cartman moves along three axes at right angles to each other, like a gantry crane, and is equipped with a rotating gripper that allowed the robot to pick up items using either suction or a simple two-finger grip. Cartman was judged on the number of items it could retrieve and store within a set time, as well as on its object recognition, pose recognition, grasp planning, compliant manipulation, motion planning, task planning, task execution, and error detection and recovery abilities.
Dr. Trung Pham, a University of Adelaide team member, cited the robot's vision system as perhaps the most critical success factor.
"One of the most important factors contributing to the team's success was the seamless integration of world-leading robotics and vision. Our robot uses deep learning to see robustly and acts reliably due to smart design. The competition was a fantastic chance for us to truly test our state-of-the-art algorithms as well as opening up new real-world challenges that go beyond academic research."
The Australian Centre for Robotic Vision notes that the team was sponsored by Osaro, which develops machine learning software, andPhotoneo, which develops 3D scanners.
View more information on the Australian Centre for Robotic Vision.
View more information on the Amazon Robotics Challenge.
Share your vision-related news by contacting James Carroll, Senior Web Editor, Vision Systems Design

To receive news like this in your inbox, click here.
Join our LinkedIn group | Like us on Facebook | Follow us on Twitter