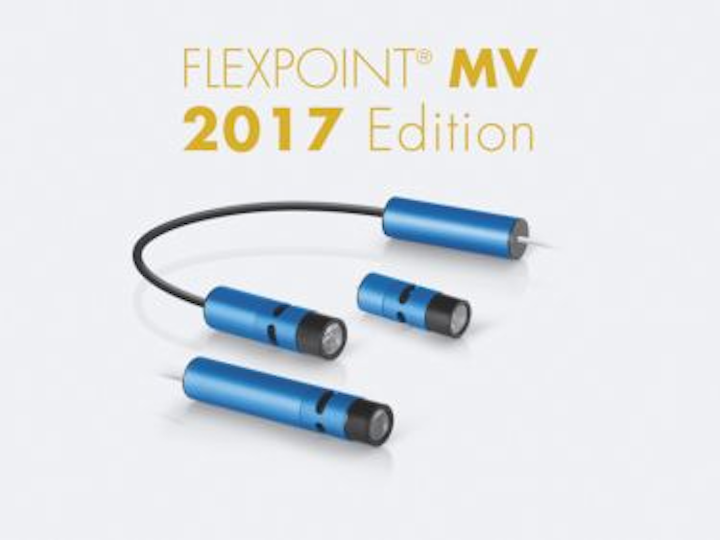 Laser Components' 2017 edition of the FLEXPOINT MV Series laser modules feature a new focusing mechanism for stable beam positioning and low line positioning draft and are designed for machine vision applications. The new MV18 laser- features an M18 thread and output powers up to 200 mW (at 450 nm), and is the latest addition to the series, while the existing MVnano, MVpico and MVfemto have been re-engineered for better functionality and flexibility. Additional new features include new focusing options to match line thickness and depth of focus, COS4 correction for homogenous line performance in applications with a wide field of view, and low-priced fixed focus variant. Modules are also available in space-saving version with separate optics and electronics, as well as optics-only versions for integration into cameras, and versions with integrated microcontrollers and serial interface.
To Learn More:

Contact: Laser Components USA
Headquarters: Bedford, NH, USA
Product: FLEXPOINT MV Series laser modules
Key Features: New focusing mechanism, new focusing options, COS4 correction, fixed focus variants, space-saving versions, optics-only versions, and versions with integrated microcontrollers and serial interface.
What Laser Components says:
View more information on the laser modules.

View More Products| Locate a vendor or system integrator | Receive e-mail updates

Share new products that you think are particularly interesting or helpful by contacting James Carroll, Senior Web Editor, Vision Systems Design.
Join our LinkedIn group | Like us on Facebook | Follow us on Twitter
Learn more: search the Vision Systems Design Buyer's Guide for companies, new products, press releases, and videos