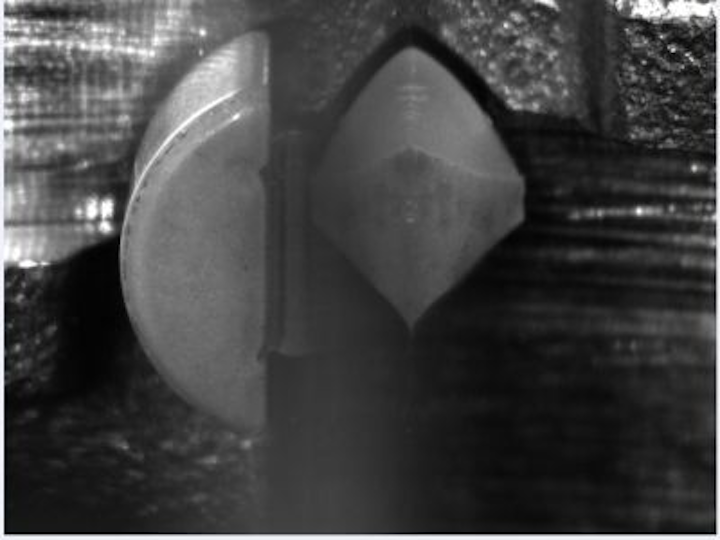 When a Tier 1 supplier of automotive exhaust system components turned toward automation for quality inspection, it reached out to Neff Group Distributors to develop a machine vision system that verifies not only the integrity of a specific part, but also its proper assembly prior to shipment.
Previously, the supplier did not have a process in place to detect defects on butterfly valves, and as a result, an end customer reported that the parts were flawed upon delivery. At one end of the butterfly valve is the point where the closure plate, or vane, pivots. That pivot point is critical to the function of the valve. A misshapen, broken, or otherwise damaged pivot can hinder the valve's operation. To automate the quality control process, Neff Group Distributors designed a compact machine vision system for part inspection that could be installed in a space-constrained environment.
For the vision aspect of the system, the company chose a Cognex In-Sight 7200 smart camera, which features an 800 x 600 CMOS image sensor that acquires images at 102 fps and is equipped with the company's PatMax pattern detection algorithm. To illuminate the parts in question, the company chose two LM45 lights from Smart Vision Lights, which offer four LEDs and feature MultiDrive and OverDrive strobe technologies. MultiDrive enables users to employ either light in continuous operation or OverDrive strobe mode, depending on wiring method.
At the inspection station, the valve is manually placed into a fixture, and prior to the final assembly/weld application, the smart camera and lights are triggered to inspect its internal integrity. The camera and lights sit just above the side of the valve body, looking directly at the pivot point. The closure plate, according to Neff, is placed in the completely open position so as not to obscure the pivot point. the two LED lights are placed on either side of the closure plate because the plate bisects the image.
The machine vision system runs two Cognex PatMax algorithms, one of each "half-moon" side of the part. Neff taught the pattern on the full, intact part and set the match percentage high enough to fail any defective parts. Parts that pass inspection are welded and sent on to the next phase. Failed parts, however, are manually removed and placed into a "failed" containment system to be reworked.
As a result of Neff's machine vision system, defects in the valves are now automatically identified, while also verifying the correct assembly before parts are welded and shipped off to customers.
Pictured above: An image of a valve with a broken right side of the pin.
View more information on Smart Vision Lights.
View more information on Cognex.
View more information on Neff Group Distributors.
Share your vision-related news by contacting James Carroll, Senior Web Editor, Vision Systems Design

To receive news like this in your inbox, click here.
Join our LinkedIn group | Like us on Facebook | Follow us on Twitter