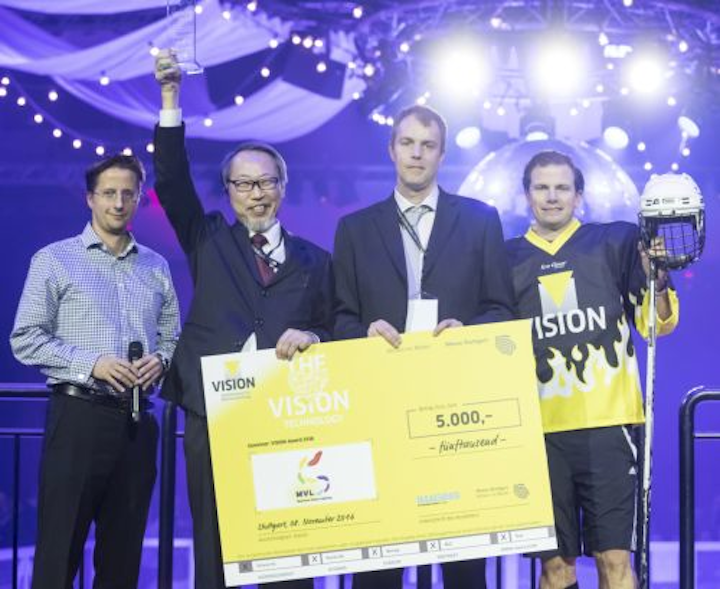 At VISION 2018, the VISION Award will be given out for the 23rd time for a company that has demonstrated outstanding innovations in machine vision.
Sponsored by Imaging & Machine Vision Europe, the VISION Award offers a grand prize of €5,000 and the opportunity to present at the official press conference for VISION 2018. Companies have until July 20, 2018 to enter.
"The award reflects the great innovative power and increasing relevance of the machine vision sector – it pays tribute to visionary developments that make lasting impression on industry," says Florian Niethammer, Project Manager of VISION, the world's leading machine vision trade fair.

The judges for the VISION Award 2018 are as follows:
Jens Michael Carstensen, Videometer A/S
Michael Engel, Vision Components GmbH
Gabriele Jansen, Vision Ventures
Ronald Mueller, Vision Markets UG
Dr. Christian Ripperda, ISRA Vision AG
Martin Wäny, TechnologiesMW SA
In 2016, Japanese company Machine Vision Lighting Inc. won the award for an approach that "opens a high degree of flexibility in the use of LED lighting to system developers." Called the VISA-METHOD (Variable irradiation solid angle), according to Messe Stuttgart, set a milestone with regard to flexibility in the use of LED Lighting.
Pictured: Shigeki Masamura, CEO and President, Machine Vision Lighting Inc., receiving the award in 2016
View here for information on how to apply.
Share your vision-related news by contacting James Carroll, Senior Web Editor, Vision Systems Design

To receive news like this in your inbox, click here.
Join our LinkedIn group | Like us on Facebook | Follow us on Twitter