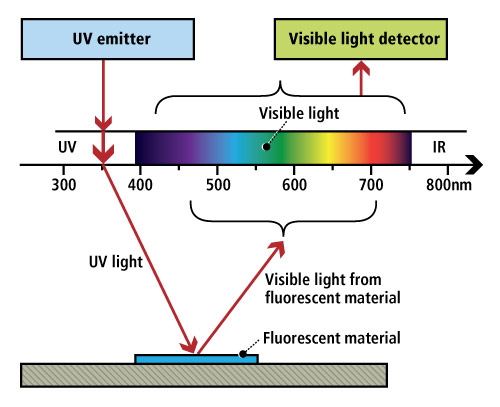 Andrew Wilson, Editor
While many of today's machine vision systems use visible LED lighting components with which to illuminate products to be inspected, both shorter ultraviolet (UV) and longer infrared (IR) lighting can prove more useful in specialized applications. While much has been written about the use of short wave infrared (SWIR) in applications ranging from agricultural product inspection to security and military applications, less information is available regarding the use of illuminating and inspecting objects with UV lighting.
Despite this, many applications abound for this type of illumination ranging from semiconductor to automotive inspection. Using wavelengths of less than approximately 370nm, these applications, were in the past, limited by the cost of available light sources. Now, however, the advent of LED UV components in numerous formats is set to make certain types of UV-based machine vision systems more affordable.
These applications can be classed into two categories. While UV illumination and UV sensitive cameras used to resolve small objects such as semiconductor features, the cost of UV cameras may, at present, prove too expensive for other types of machine vision applications. However, UV LED-based light sources can also be used in fluorescence applications. In these types of applications, a visible light camera can be used to measure the visible fluorescence of an object as it is reflected from the object being examined (Figure 1).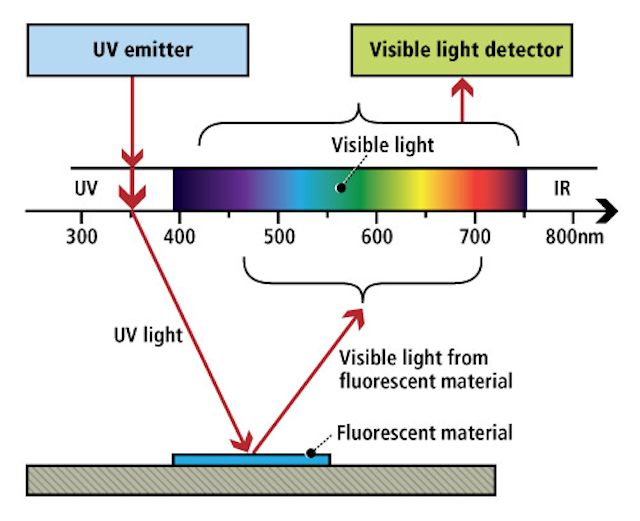 Figure 1:Illuminating products with UV light and measuring the reflected visible light, applications such as the inspection of UV curable automotive gaskets can be accomplished.
In such applications, a relatively low-cost UV light source and visible spectrum camera can be used. Here, UV wavelengths are used to excite the material under inspection and the material fluoresces by emitting light in the visible spectrum. "In such applications," says Steven King, Applications Engineering Manager at Microscan (Nashua, NH, USA;www.microscan.com), "the key is to flood the part under inspection with as much UV light as possible and use an UV filter on the camera to block and reflected UV light from the part."
Indeed, in his article "Advancements in UV Lighting for Machine Vision Applications," Matt Pinter, Design Engineer with Smart Vision Lights (Muskegon, MI, USA;http://smartvisionlights.com) shows how the use of filters in such applications can help designers of such UV-based imaging systems (http://bit.ly/1cbyhDV).
Flooding the part with such high-intensity light can be accomplished in a number of different methods using UV spotlights, line-lights (for web inspection applications) or ring-lights, depending upon the applications. Such UV illumination components are available from a number of companies including Advanced illumination (Rochester, VT, USA;www.advancedillumination.com), CCS America (Burlington, MA, USA; www.ccsamerica.com), Gardasoft (Cambridge, England; www.gardasoft.com) and Microscan among others.
While using separate UV illumination and cameras can be used to perform this task, other alternatives exist. One such approach has been taken by EMX Industries (Cleveland, OH, USA;www.emxinc.com) that has developed a smart sensor for such applications. In the design of the UVX luminescence device, the company has integrated both a UV LED and photo-detector to perform the task of UV measurement.
In future, it will be interesting to see if other "smart camera vendors" may build such low-cost products to address the reflective UV imaging market since according to EMX Industries, the UXV sensor can be used in applications as diverse as detecting UV FDA-approved inks, the presence of UV curable gaskets in automobiles and the presence of glue on vacuum cleaner bags (http://bit.ly/KRCfGC). Other applications of reflected UV imaging include the detection of tiny scratches in surfaces (http://bit.ly/M5rBh5) and the detection of freeze damaged oranges (http://bit.ly/1eYKVV1).
More Vision Systems Issue Articles
Vision Systems Articles Archives