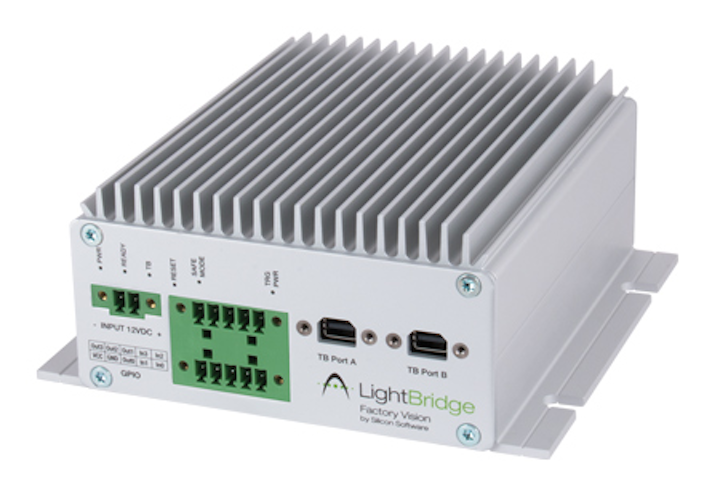 When automated optical inspection (AOI) solution provider Marantz Electronics (Mek; Yokohama, Japan; www.marantz-electronics.com) wanted to connect its desktop PowerSpector GTAz PCB inspection system via Camera Link to a Mac computer, they used a LightBridge frame grabber from Silicon Software (Mannheim, Germany; https://silicon.software). Not only did the external frame grabber enable connection of the 3D AOI system via Camera Link and optical Thunderbolt cables, but the FPGA processing inside the frame grabber allowed Mek to raise the main camera's resolution from 2 to 4MPixels, improving PCB inspection performance as well.
Using no less than nine 24-bit color cameras, the inspection system includes a 4MPixel main camera that acquires images at 60 fps, surrounded by eight side cameras. During operation, the frame grabber synchronizes the processing of images from the main and secondary cameras, and sends results to the host PC. Using 2 to 4 fiducials, the inspection system first orients the printed circuit board with millimeter precision, then inspects over 2000 points within a few seconds.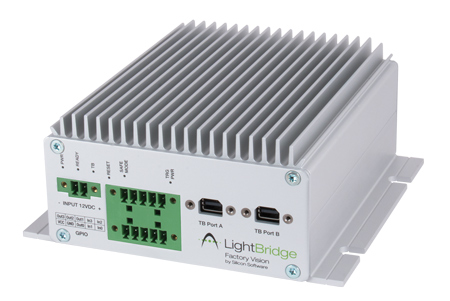 Silicon Software's LightBridge external image processing device
integrates an FPGA processing engine to enable image acquisition and processing.
"Our customers no longer have to do elaborate programming in a short period of time because the inspection system compares the points with error-free sample boards", explained Henk Biemans, Managing Director of MEK Europe BV.
Capable of inspecting surface-mount technology (SMT) and though-hole technology (THT) components, the AOI system performs analysis based on presence, type, identification, color, text, polarity, and offset, as well as solder joints using reflow, wave, and selective processes. A four-angle multicolor illumination system with a meniscus profiler using light reflection enables 3D solder joint measurements. System measurement procedures include synthetic image comparison, spectral analysis, grayscale verification and analysis of brightness, color tone and saturation.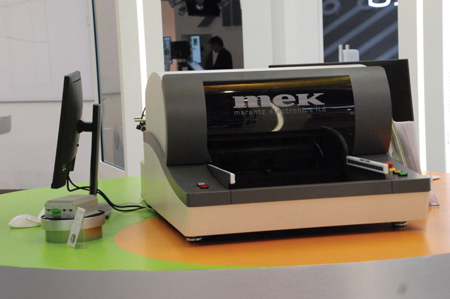 MEK has programmed appropriate image processing applications and
measurement procedures individually on the LightBridge FPGA using VisualApplets.
The image preprocessing functions taking place on the FPGA include white balance, noise suppression, and gamma correction, which is a modification of brightness differences in color reproduction. The sequence of these functions during operation are first, color correction, followed by color reconstruction using a Bayer filter, conversion of RGB into HSL color space, and finally, other color filters are applied.
The FPGA can be programmed using VisualApplets from Silicon Software. With the aid of graphical data flow diagrams, the 64-bit development environment simplifies the programming of image processing applications on FPGA processors for frame grabbers, industrial cameras, and image processing devices via data flow models, without using a hardware description language (HDL) and without any FPGA knowledge to improve time-to-market by reducing development time.
Optical unit in the inspection device with nine cameras.
"VisualApplets allows us to develop the needed image processing applications ourselves instead of being dependent on support as we were before. The entire system thus becomes an open platform upon which we can modify individual applications at any time and add new ones," explained Hideki Konishi, Project Leader at Marantz Electronics in Japan.
Following classification of mated image elements with the aid of the side cameras, the images are evaluated. The recordings from the main camera are displayed on a monitor in a zoomable overall view with marked errors, while the eight side cameras provide additional zoomed individual recordings of errors from different perspectives. Since all errors are represented in 3D close-ups, it is no longer necessary to manually inspect the circuit boards microscopically.
3D inspection of components and solder joints.
"This system for Apple computers, built together with Silicon Software, delivers highly precise 3D images for inspecting components and solder joints on circuit boards. LightBridge offers higher performance and increases reliability at the same time with use of optical Thunderbolt cables, as well as the elimination of multicore copper cables. As a result, we were able to increase the main camera's total resolution from 2 to 4 megapixels, enabling higher data throughput," Konishi emphasized.
In Japan, the MEK inspection system has already been modified and successfully delivered, and is expected to now be offered worldwide, at which point porting onto further inspection systems will follow in the future.