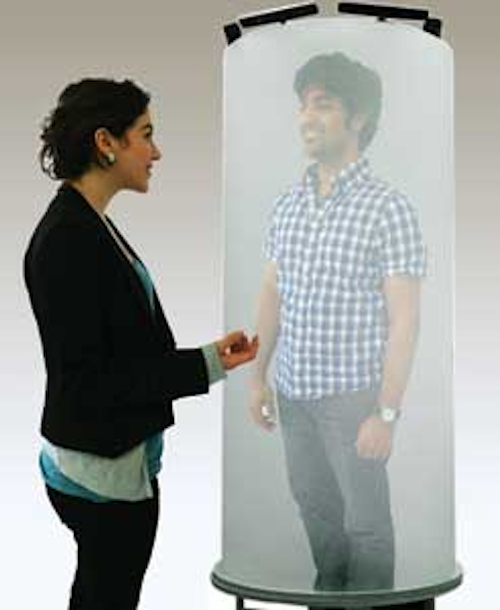 At Canada'sQueen's University, researchers have created a human-sized 3-D videoconferencing system that allows people in different locations to participate in a video conference as if they were standing in front of each other.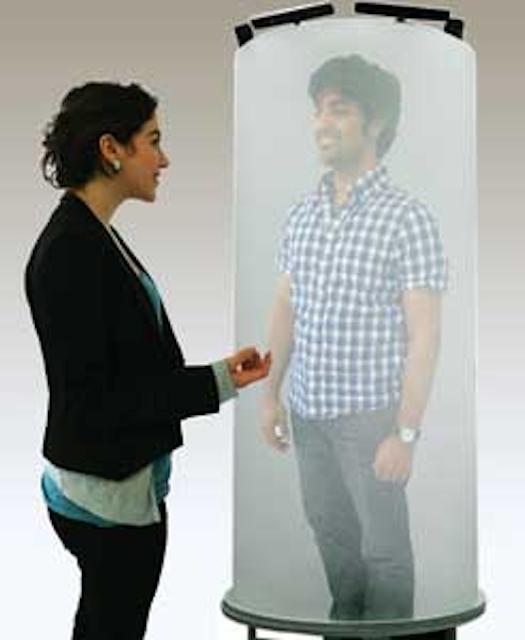 The Telehuman system, which was developed by professor Roel Vertegaal and a team of researchers at Queen's Human Media Lab, comprises a pair of 1.8-m-tall translucent acrylic cylindrical pods with embeddedMicrosoft Kinect sensors.
The Kinect sensors capture moving images of an individual standing around the pod. These are then transmitted to the second pod, which uses a projector to create life-size, 3-Dhologram-like images on the inside surface of the cylinder.
Since the3-D video image is visible 360 degrees around the pod, one person can walk around it to see another person's side or back.
The researchers have used the same pod to create another application called "BodiPod," which presents an interactive 3-D anatomical model of the human body. The model can be explored in 360 degrees through gestures and speech interactions. When people approach the pod, they can wave in the air to peel off layers of tissue.
In x-ray mode, users approaching the pod can see deeper into the anatomy of the body, revealing the model's muscles, organs, and bone structure. Voice commands such as "show brain" or "show heart" will automatically instruct the system to zoom into a 3-D model of the brain or heart.
More Vision Systems Issue Articles
Vision Systems Articles Archives