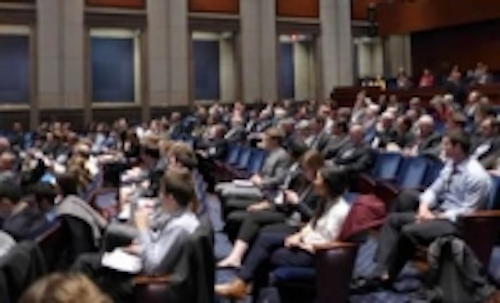 During the 20th Science-Engineering-Technology Working Group (SETWG) "STEM on the Hill" event in Washington, D.C, a group of volunteers from the National Photonics Initiative (NPI) was on hand to express support for key issues related to photonics technologies and research and development.
A total approximately 320 scientists, researchers, engineers, and other industry professionals from across the country gathered for the STEM event. SPIE, a founding sponsor of the NPI group, accounted for 15 of the 39-member NPI group participating in the event. The NPI team visited Congressional offices in Washington in order to express support for a number of initiatives, including a potential Institute of Manufacturing Innovation (IMI) detected to photonics.
In June 2014, the U.S. Department of Defense launched a competition to award more than $100 million in federal investment, which will be matched by $100 million or more in private investment to the winning consortia to build a new IMI focused on integrated photonics. The IMI will focus on developing an end-to-end photonics ecosystem in the U.S., including domestic foundry access, integrated design tools, automated packaging, assembly and test, and workforce development, according to the White House press release. Three consortia are competing to host the new institute and the winner is expected to be announced this summer.
The second item the NPI group expressed support for was the Reauthorization of the America Creating Opportunities to Meaningfully Promote Excellence in Technology (America COMPETES) act, which expired in 2013, and for the inclusion of "optics and photonics" in the language of the bill. The bill from the Senate Committee on Commerce, Science, and Transportation, chaired by Senator John (Jay) Rockefeller (D, NY), says that "optics and photonics research and technologies promote U.S. global competitiveness in industry sectors, including telecommunications and information technology, energy, healthcare and medicine, manufacturing, and defense." The 114th Congress has yet to introduce America COMPETES to either chamber.
Page 1 | Page 2