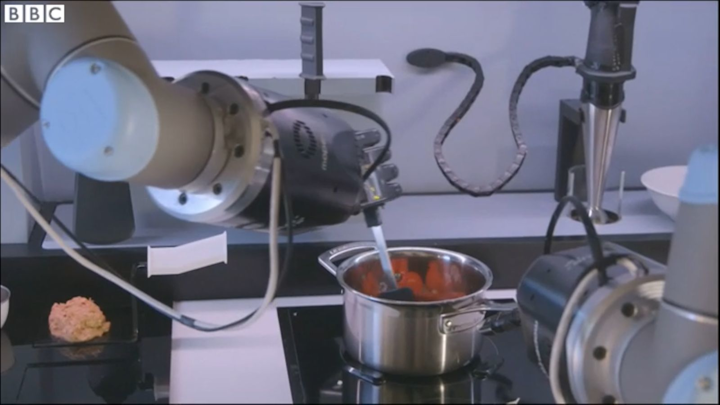 London-based Moley Robotics has developed a prototype of a robotic "sous-chef," which was on display at this year's Hannover Messe trade fair, where it was seen making crab bisque, according to BBC News.
The robot learns to cook by capturing the movements of a human in the action of making a meal, and these movements are then turned into commands that drive a sophisticated pair of robot hands.
Moley Robotics concept for the robot expands into what they call the "world's first robotic kitchen." In this concept, the dexterous robot is integrated into a professional grade kitchen. In 2017, Moley intends to launch a consumer version of the robotic kitchen, which will feature a built-in refrigerator and dishwasher to compliment a stove and oven, and will be controlled using a built-in touch screen, or remotely via a smart phone app. Future editions of the robot will reportedly have built-in motion capture cameras so that home cooks can 3D record themselves preparing their favorite dishes, and upload them to the digital recipe library.
For two years, the robot has been in development, but the prototype finally made its debut. One of the most important components of the robot is its' fully-articulated hands, which were developed by the Shadow Robot Company. These robot hands are the product of more than 18 years of research and development, and are currently used around the world in labs, and by NASA. The hands are reportedly able to accurately reproduce the movements of human hands.
Using these hands, the robot prepared crab bisque. In order to do so, 2011 BBC Master Chef Competition winner Tim Anderson prepared specially-created dishes in a motion capture studio. Every motion and nuance was detected and recorded in 3D, then translated into digital movement.
In the BBC News article, Professor David Lane at Heriot-Watt University raises some interesting points.
"It's interesting to note that Dyson is launching its robotic vacuum cleaner in Japan - a traditional early-adopter market," he told the BBC. "But people more generally are taking the baby steps towards accepting this type of technology. The example I always like to give is the Docklands Light Railway in London: everyone gets on it and doesn't think twice that there's no driver, no human, at the front."
He continued, "The UK is in a good position to take advantage of the new wave of robotics that is coming. It's small, agile, disruptive start-up activity that is going to grow big - and that's where we have to put our energies."
Moley is reportedly looking to develop a consumer version that costs approximately £10,000 (or nearly $15,000.) While this is certainly not an inexpensive price point, I certainly would not complain about a robot that is capable of making my grandmother's Japanese curry recipe at my beck and call.
View more information on Moley Robotics.
View the BBC article.
Share your vision-related news by contacting James Carroll, Senior Web Editor, Vision Systems Design
To receive news like this in your inbox, click here.
Join our LinkedIn group | Like us on Facebook | Follow us on Twitter | Check us out on Google +