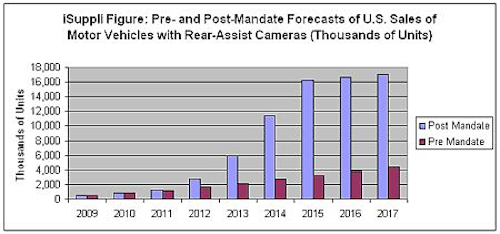 According to market research firm iSuppli [El Segundo, CA, USA; now part of IHS Inc. (NYSE: IHS)], a proposed mandate from the US Department of Transportation will cause sales of new cars with rear-view park assist cameras in the United States to quadruple -- compared to previous expectations -- during the next seven years.
The mandate calls for all new motor vehicles weighing less than 10,000 lb sold in the United States to incorporate backup cameras by Sept. 1, 2014. The cameras are designed to eliminate blind spots that contribute to backover collisions.
All new cars sold in model year 2015 are expected to include rear-view park assist cameras, up from iSuppli's previous forecast of only 20%.
iSuppli now projects that from 2011 through 2017, 71.2 million new cars in the United States will be sold with rear-view cameras for park assistance. The pre-mandate forecast predicted only 19.1 million for the same period.
With the US market beginning to accelerate in 2012, sales will rise 119.9% to 2.8 million units, up from 1.3 million units in 2011. Sales then will increase by 117.4% in 2013 to reach 5.98 million, and will climb another 91.1% in 2014 to hit 11.4 million. By 2017, a total of 17.1 million cars, representing the entire estimated new-vehicle fleet, will be sold with rear-view cameras in the United States.
The figure presents iSuppli's pre-mandate and post-mandate forecasts for annual sales of new cars with rear-view park assist cameras in the United States. The proposed mandate is not finalized and still could undergo changes by the time it's completed on Feb. 28, 2011. As a result, any changes will impact iSuppli's forecast.
"Crashes that occur when cars are backing up represent a relatively small but avoidable cause of death, injury, and trauma in the United States every year," says Jeremy Carlson, analyst for automotive research at iSuppli. "While the adoption of ubiquitous rear-view cameras is expected to be very costly for automakers, the technology promises to dramatically reduce such backover accidents, which disproportionately impact the very young and the very old. The mandate also will benefit suppliers of advanced driver assist systems electronics, particularly those that make small displays, camera sensors, and related equipment."
Costly cameras
The rollout of rear-view camera technology on the US automotive fleet will be costly. NHTSA estimates that a rear-view camera system will cost from $159 to $203 when installed on a vehicle without an existing display. For vehicles with adequate displays available -- such as in 88% of 2010 models, according to iSuppli -- the price per vehicle drops to $58. NHTSA estimates the total incremental cost to equip the US vehicle fleet of 16.6 million will range from $1.9 billion to $2.7 billion.
Supplier benefits
Among automotive electronics suppliers, several are expected to benefit from the camera mandate, with Gentex Corp. leading the way.
Gentex offers small 2.4- or 3.5-in. displays integrated into interior rear-view mirrors. These are options for carmakers that need to install rear-view cameras on low-end models that don't already have an in-vehicle infotainment or navigation display available.
Low-cost navigation system suppliers such as Bosch Group, Denso Corp., and others likely will compete among themselves as well as with Gentex to bring inexpensive solutions to this same entry-level segment.
Furthermore, camera sensor and related suppliers are well-positioned. Companies like Panasonic Corp., Alpine Electronics, Sony Corp., Valeo, Hella Inc. and others will benefit from a sizable increase in total available market, since every new vehicle will require a camera sensor.
SOURCE: iSuppli

-- Posted by Vision Systems Design