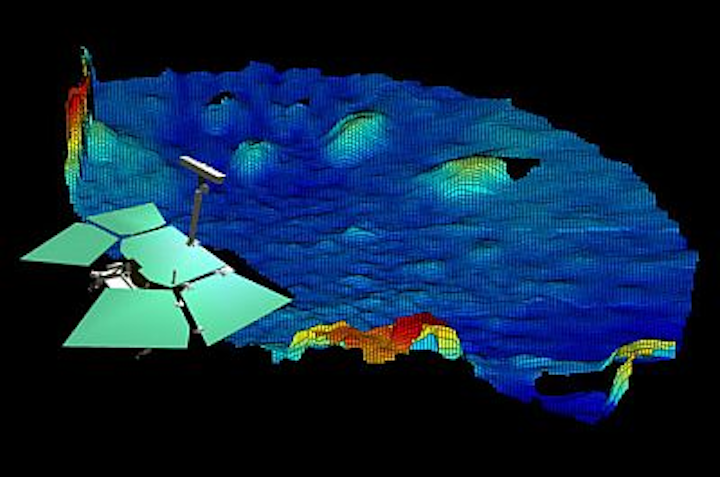 Theautonomous navigation capability of the latest Mars rover prototype developed by Astrium UK (Stevenage, UK) engineers has been demonstrated in a specially constructed mock-up of a Martian landscape.

While previous planetary rovers have had to sit idle for considerable periods of time awaiting instructions from operators on Earth, the "Bruno" rover will be able to decide on its own course across the Martian surface. Given the coordinates of a target, it will identify hazards such as rocks, slopes, and drops, and plot the most appropriate route to a given destination.
Bruno's Guidance, Navigation and Control (GNC) system converts images of its surroundings captured by stereo cameras atop its 2-m mast into a3-D terrain model and then applies algorithms to create a "navigation map," plotting out a path that avoids areas classified as non-navigable (impassable obstacles and unsafe zones) to take it to its designated destination.
In tests, Bruno proved that it could recognize an insurmountable obstacle blocking the direct route to the target location (in this case a large pile of rocks), devised and followed a path to circumnavigate it step by step, and arrived successfully at its appointed destination.

It also showed that it can make real-time adjustments to correct for disturbances as it goes -- steering itself to the right, for example, to compensate for being slightly deflected to the left while traversing a rock. This constitutes a significant advance over its robotic predecessors, which could not make on-the-move path corrections.

The rover prototype has been developed under the European Space Agency's ExoMars program, a collaborative undertaking with NASA for Mars exploration. The original mission envisaged two rovers -- one European and one American -- traveling together and descending to the same spot on the surface of the Red Planet.

Lately, budget restrictions and program revisions have led to a new focus on sending a single rover to investigate Mars, with a launch slated for 2018.
-- Posted byVision Systems Design