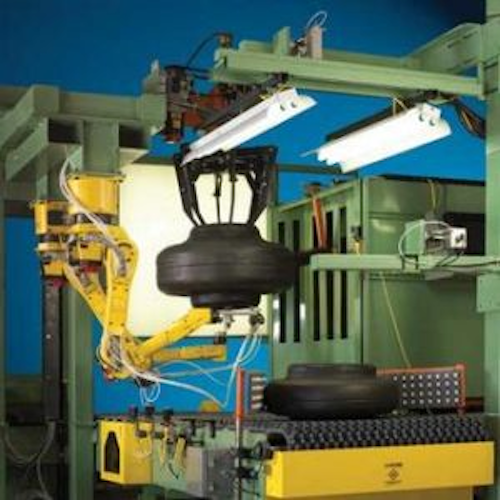 First covered in a 2009 article in Vision Systems Design, a patent has now been awarded for a system that combines machine vision and robotics to align and measure uncured tires, then sprays mold-release agent before final molding and vulcanization. The developer of the system, Todd Hendricks atPioneer Industrial Systems (Pioneer, OH, USA) received the patent (patent 7,943,201).
Theorginal article, Process Precision, is available on the VSD site.
And avideo showing the robotic handling and spraying system is also available on the VSD site.
The abstract of the patent, published by the US Patent and Trademark Office states: "A robotic spray system is provided for accurately spraying mold release onto any size or shaped green tire. The system analyzes individual green tires using an integrated vision system. The system controls the robotic spray position, the fan, fluid, atomizing air, and tire rotation speed for optimal spray coverage on both the inside and outside of green tires. The system includes a conveyor, an overhead mounted camera located over an infeed station, and a second camera located perpendicular to the green tire's tread and several feet away from the center of the tire. Pictures of the green tire in the station are used to estimate the center and radius of the tire and locate the angle of the bar code with respect to the center of the tire. Reference points are provided from the camera images and robot positions are calculated to control the spraying."
The patent application was filed on Sept. 4, 2007. Thefull-text of the patent can be found at at the US Patent Office site.
--Posted by Conard Holton
Vision Systems Design