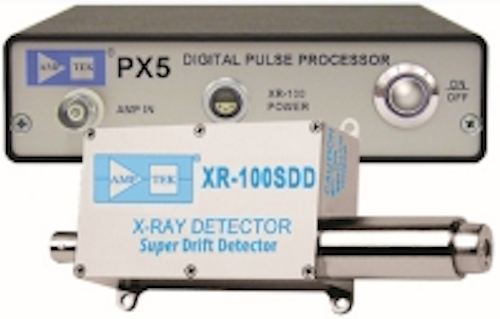 AMETEK, Inc. has announced the acquisitions of AMPTEK, Inc., a privately-held provider of x-ray detectors, and Luphos, a company specializing in non-contact metrology technologies.
Headquartered in Bedford, MA, Amptek creates instrumentation and detectors used for non-destructive materials analysis applications and have annual sales of approximately $30 million. The company's x-ray detectors are used in portable and laboratory instrumentation utilizing x-ray fluorescence, electronics for nuclear and spaceflight instruments, and gamma-ray detectors for Homeland Security and nuclear emissions monitoring. Amptek will become part of AMETEK's Materials Analysis Division within the Electronics Instruments Group, which had sales of $2 billion in 2013.
Mainz, Germany-based Luphos creates technologies that utilize multi-wavelength laser interferometry. Its non-contact metrology technology provides nanometer level measurements of complex lenses and optical surfaces. Luphos will join AMETEK's Ultra Precision Technology Division, which is also part of the Electronics Instruments Group
"Both AMPTEK and Luphos are excellent acquisitions and highly strategic additions to our Electronic Instruments Group," said Frank S. Hermance, AMETEK Chairman and Chief Executive Officer. "These businesses allow us to expand our presence in materials analysis and dimensional metrology, two attractive growth platforms. These acquisitions also continue our very strong deployment of capital on acquisitions."
View more information on AMETEK.
View more information on Amptek.
View more information on Luphos.
Also check out:
AMETEK acquires Zygo Corporation
AMETEK acquires portable 3D measurement company Creaform, Inc.
Share your vision-related news by contacting James Carroll, Senior Web Editor, Vision Systems Design
To receive news like this in your inbox, click here.
Join our LinkedIn group | Like us on Facebook | Follow us on Twitter | Check us out on Google +