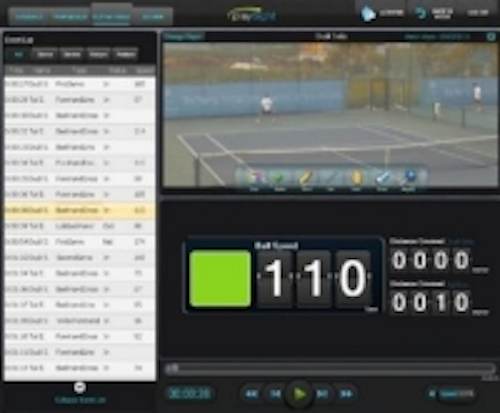 PlaySight's Smart Court video analysis system utilizes four GigE cameras and an IP network camera to provide real-time analysis and after-action review of the performance tennis players.
The PlaySight system—which is designed to help tennis players improve—provides debriefing solutions, auto stats, biomechanical analysis, and 3D tactical game management. A player's activity during a match or training is recorded using four ace acA1300-30gc GigE cameras and a BIP2-1300c-dn IP network camera from Basler. The 1.3 MPixel acA1300-30gc cameras feature a Sony ICX445 CCD image sensor with a 3.75 µm x 3.75 µm pixel size. The cameras achieve a frame rate of 30 fps at 1.3 MPixel resolution and also feature 12-bit pixel depth, external triggering, and a Power over Ethernet or 12 VDC power option.
Basler's 1280 x 960 pixel BIP2-1300c-dn IP network camera is equipped with a Sony CCD sensor that has a 3.75 µm x 3.75 µm pixel size and achieves a frame rate of 30 fps in 720p. The cameras feature a flexible area of interest mode, an infrared cut filter, and an SD card slot. It also features power options of Power over Ethernet, 12 VDC, or 24 VDC.
By pairing the video captured by these cameras with image interpretation and analytical algorithms, the PlaySight system can calculate game statistics such as player and ball position or distance and speed of shots. The system also features as an integrated automatic line calling system, which determines whether a ball was in or out.
View the case study.
Also check out:
NIWeek 2014 preview: Vision Summit and latest industry innovations
GigE cameras provide vision in cell-imaging microscope system
Global expansion aids record-setting 2013 for German machine vision market
Share your vision-related news by contacting James Carroll, Senior Web Editor, Vision Systems Design
To receive news like this in your inbox, click here.
Join our LinkedIn group | Like us on Facebook | Follow us on Twitter | Check us out on Google +