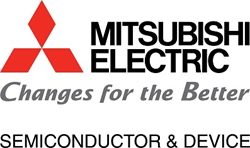 The Semiconductor & Device Division of Mitsubishi Electric US, Inc. offers a portfolio of semiconductor and electronic devices that contribute to the advancement of information processing, telecommunications and the efficient use of energy. The division's next-generation optical devices, high-frequency gallium nitride and gallium arsenide devices and silicon RF devices are used in a range of applications such as datacenters, satellite base stations and two-way radios to support today's rapidly evolving telecommunications networks.  The division also offers leading-edge TFT-LCD modules in a wide range of formats. Additionally, the division provides highly efficient power modules for both traditional and renewable energy sources that distribute power effectively and reliably and are used in industrial and automation applications, hybrid and electric vehicles, and home appliances. The Contact Image Sensor products include the KD series, specifically designed for industrial image output and image processing.

More information is available at http://us.mitsubishielectric.com/semiconductors/en.

             
Request More Information
Fill out the form below to request more information about Mitsubishi Electric US, Inc..
---