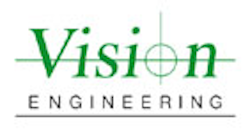 Vision Engineering holds patents for techniques which maximize the ergonomic performance of a range of mono and stereo optical microscopes. The optical technologies redefine the microscope optical path with a patented multi lens rotating array, which expands the exit pupil by a factor of 100 times. These techniques are used in the company's renowned Dynascope™ eyepieceless inspection and non-contact measurement systems, Hawk®, Kestrel®, Mantis® stereo viewing systems, Alpha® expanded pupil microscopes, and Lynx® eyepieceless stereo microscopes expanded pupil eyepiece accessory.

The Mantis family of products consisting of the Lentis, Mantis Compact, Mantis Elite, Mantis Macro combining the viewing ease of bench magnifiers with the high resolution of microscopes. The large viewing area promotes maximum comfort while producing sharp, three dimensional stereo images with the Mantis Elite offering magnification up to 20x.

To measure it you need to see it! Small, intricate, dark, 3D, metal, plastics, and ceramics - all parts which are optically difficult. Vision's patented technology leads the world in the design and manufacture of non-contact measurement equipment. Vision's family of non-contact measuring systems provide high accuracy, repeatable measurement of complex manufactured components of all materials. With configurations varying from 2-axis manual systems to fully automated, edge detecting 3-axis measuring platforms, the Hawk and Kestrel families offer modular and flexible solutions meeting a wide range of measuring requirements.
Free demonstrations of our units at your facility are available, call 800-644-7264 or email info@visioneng.com. Website:
Request More Information
Fill out the form below to request more information about Vision Engineering.
---