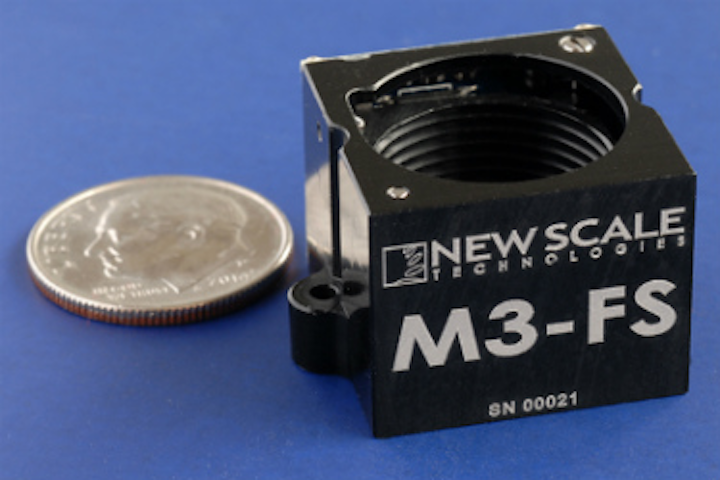 New Scale Technologies will show the MS-FS Focus Module at SPIE Photonics West 2019. The MS-FS is a closed-loop motion solution that includes an embedded controller, eliminating the need for an external control board, and is 20 x 23 x 16 mm in size.
The MS-FS offers 0.5 µm resolution and a maximum image sensor area of 17 x 17 mm, runs on a 3.3 V power supply, accepts motion commands directly from camera processors via I2C or SPI interfaces, and accepts M8 to M16 lenses with image formats from 1/3" to 1/1.8".
New Scale Technologies will be showing at SPIE BiOS in Booth 8141 and at Photonics West in Booth 252.

To Learn More:
Contact: New Scale Technologies
Headquarters: Victor, NY, USA
Product: M3-FS Focus Module
Key Features: 0.5 µm resolution, runs on 3.3 V, requires no external control board,
What New Scale Technologies says:
View more information on the M3-FS Focus Module.
View More Products | Locate a vendor or system integrator | Receive e-mail updates
Share your vision-related news by contacting Dennis Scimeca,Associate Editor, Vision Systems Design

To receive news like this in your inbox, click here.
Join our LinkedIn group | Like us on Facebook | Follow us on Twitter